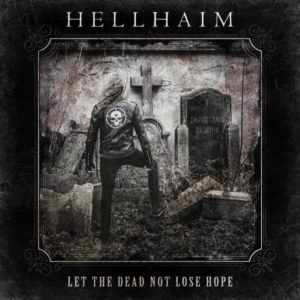 Get generous doses of Judas Priest, more notably Rob Halford's era – redundant to say that, isn't it? – mix with some other generous doses King Diamond and Merciful Fate instrumentals, more generous doses of 1980s Speed Metal and a weird sense of dark humor and the outcome will be Hellhaim "Let the Dead not Lose Hope." More or less, I guess. It's very hard to label a band like this due to the varied moods and features the album showcases. Mixed with the consistent Speed Metal hell there are other instance that I called weird sense of dark humor as some speechs as in "Devilin" which are everything except common. The album deals with those features very well interwoven with the Judas Priest and Merciful Fate traits. If I had to pick up an album that influenced "Let the Dead not Lose Hope" I'd say Judas Priest's "Painkiller." Some songs as "Virus" addresses to it very much.
"Let the Dead not Lose Hope" is full of of that white noise some bands love to use. Between "Virus" and "Zodiac" there's a Pink Floyd "The Wall" excerpt with some radio at the backgrpound with a woman saying some incomprehensible things. By the way, the track has a atrong taste of Judas Priest's "Painkiller." Following track "Hell Is Coming" changes a little. It's faster more like classic Speed Metal and a step near Merciful Fate. The kind of track that makes the Metal fan headbang at large. The fast and precise guitar pickings give the tone of the song. I love when the guitar solo bursts out of the blue full of melody like it happens here. Melody is also a stapler of Hellhaim. The guitar intro of "La Santa Muerte – The Triumph of Life" tells it. The track is strong and moody with the alternating guitar and drums sequence that enlightens the mood of the song and giving a different direction to the album. The guitar solo is also a highlight. Strong, clear, and full of emotion. Just perfect.
I had a great time listening to "Let the Dead not Lose Hope" for sure. It's fantastic the way the guitars complete the vocal. Both features do work together to give the songs that something fans always love. An album that pays wondrous homage to the spirit of Metal music via a killer and muscular Speed Metal hell. A special highlight to the grand finale of "Livet är stunden" and "Metro" two perfect tracks to close the album with flying colors. The two showcases how vocals can be as varied as it's possible. From where I'm standing, both album tittle "Let the Dead not Lose Hope" and La Santa Muerte – The Triumph of Life showcases weird sense of dark humor Hellhaim exercise here.
Hellhaim "Let the Dead not Lose Hope" will be released on May 13th via Ossuary Records.
Track Listing:
Axe to Grind
Devilin
Virus
Zodiac
Hell Is Coming
La Santa Muerte – The Triumph of Life
Aluminum – Ash
Livet är stunden
Metro
Watch "Devilin" official video here: