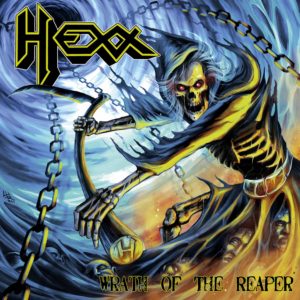 Even the most well-tuned metaller, that one who doesn't leave behind any, I said any, Metal band around the globe, sometimes miss a band. Or a lot. I missed Hexx, I confess. I mean, I knew Hexx by the good reputation, I've never heard them. Part of that ignorance must come from not extense discography. Since 1983, Hexx has released only three full-length albums. This "Wrath Of The Reaper" is their fourth effort. Do you know repent?
That's how I feel being introduced to Hexx that late.
"Wrath Of The Reaper" is an album that mixes that guitars finesse with aggressive vocals that only old-timer metallers can do. As only Orwell's Big Brother can erase the past, Hexx "Wrath Of The Reaper" features in some songs past influences. Echoes of the thrash era can be heard in a guitar or bass lines, in a chorus or even in the drumming. Of course, being a band from the 1980s, the most influences are from that period. And that's not a critique, it's Hexx style whatsoever.
But I guess the biggest Hexx trace of personality is mixing complex guitar riffing to short and precise guitar phrases, as the instrumental passage right in the middle of "Screaming Sacrifice." I never expected that a band could be power and thrash metal at the same time. Hexx can. "Screaming Sacrifice" proves it well. Hexx are a band of some welcome guitar and vocal melodies, which give them their magical touch. The opening track, "Macabre Procession of Spectres," is almost martial at its beginning. Drums and guitars are altogether in a martial riff, almost military that gives the impression of a march, or a procession. There are some mixes of thrash and power metal in it, and along the album as well. "Wrath Of The Reaper" is an album where Hexx could dose with some balance the thrash vertent with the power metal facete. Songs like "Unraveled" and "Exhumed For the Reaping" are openly thrash tunes with that frenzy that is thrash staple.
Hexx prove they're alive and well, though, I guess no matter how hard a band struggles, it never gets the deserved recognition. That's the case of Hexx. It's such a pitty, because we can't afford to loose Hexx's guitars finesse, and melodic touches.
Track Listing:
Macabre Procession of Spectres
Screaming Sacrifice
Slave In Hell
Swimming The Witch
Dark Void Of Evil
Unraveled
Voices
Exhumed For the Reaping
Circle The Drain
Wrath Of The Reaper
Certificate Of Death
"Wrath Of The Reaper" is to be realesed on September 15th via High Roller Records.
Unfortunately, till now no video of "Wrath Of The Reaper" has been realesed. So enjoy "Edge of Death" here.