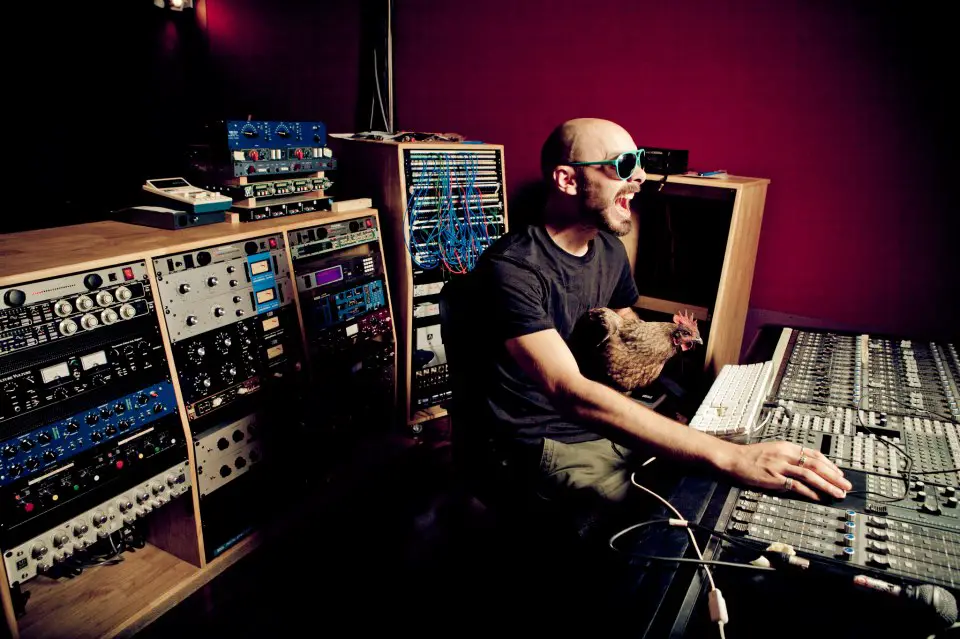 Friday, on June 16th, IGORRR – the brainchild of French musician and eclectic composer Gautier Serre – will release their new album, "Savage Sinusoid", via Metal Blade Records. On this record, electronic manipulations, accordion, saxophone, sitar, harpsichord, mandolin and strings sit comfortably alongside ruthless blastbeats, chunky riffs, death grunts and soaring operatic vocals – and as chaotic as this might sometimes seem, there is no lack of heart behind everything thundering from the speakers. Check out a behind-the-scenes video of the making of "Savage Sinusoid" part 3 belo.
The previous episodes can be seen below:
–Part 1
–Part 2
Head over to Metal Blade where you can pre-order the album in these formats:
–Digipak CD
–pale skin clear vinyl (limited to 500 copies)
–cream/white splatter (limited to 200 copies – EU exclusive)
–golden yellow vinyl (limited to 100 copies – Bandcamp exclusive)
–tan-marbled vinyl (limited to 200 copies – US exclusive)
*exclusive bundles with a shirt, plus digital options are also available!
IGORRR have announced a full European tour for the fall in support of the new album! Dates are listed below:
IGORR
04/10/17 IL – Tel Aviv – Gagarin
06/10/17 FR – Nimes – Paloma
07/10/17 ES – Barcelona – Razzmatazz
08/10/17 ES – Madrid – Caracol
09/10/17 FR – Bordeaux – Iboat
10/10/17 FR – Nantes – Le Ferrailleur
11/10/17 FR – Brest – La Carène
13/10/17 NL – Rotterdam – Rvlt Festival
14/10/20 NL – Arnhem – Willemeen
15/10/17 FR – Reims – La Cartonnerie
16/10/17 FR – Rouen – Le 106
17/10/17 FR – Lille – Aeronef
19/10/17 FR – Metz – Les Trinitaires
20/10/17 FR – Séléstat – Rock Your Brain Festival
21/10/17 FR – Cannes – Make Some Noise Festival
22/10/17 IT – Milano – Magnolia
23/10/17 IT – Calenzano – Cycle Club
25/10/17 SK – Bratislava – Randal
26/10/17 HU – Budapest – Durer Kert
27/10/17 CZ – Praha – Nova Chmelnice
28/10/17 DE – Berlin – Bi Nuu
29/10/17 DE – Dresden – Scheune
30/10/17 DE – Hamburg – Logo
01/11/17 DE – Hannover – Glocksee
02/11/17 GR – Athens – t.b.a.
04/11/17 BE – Antwerpen – GrindWaarpen Festival
05/11/17 UK – Milton – The Craufurd Arms
07/11/17 UK – Birmingham – The Flapper
08/11/17 UK – London – 02 Academy Islington
09/11/17 UK – Glasgow – Audio
10/11/17 UK – Manchester – Rebellion
13/11/17 FR – Toulouse – Rex
14/11/17 FR – Clermont-Ferrand – La Coopérative De mai
15/11/17 FR – Paris – La Maroquinerie
16/11/17 FR – Lyon CCO
17/11/17 CH – Bulach – Wooz Club
18/11/17 CH – Bulle – Ebullition
Other IGORRR Live Dates:
17/06/17 FR – Clisson – Hellfest
07/07/17 FR – Vendargues – What The Fest?!
09/07/17 UK – Winthorpe – UK Tech Fest
15/07/17 BE – Dour – Dour Festival
11/08/17 CZ – Jaromer – Brutal Assault
26/08/17 FR – Cormeilles – True Normand