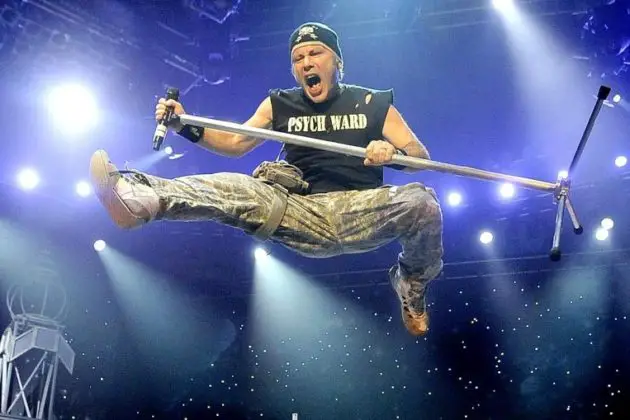 In conversation with Eddie Trunk, Iron Maiden's Bruce Dickinson explained the title of his latest book "What Does This Button Do," his cancer battle, and more. Here are some excerpts of the interview as transcribed by Ultimate Guitar.
My biggest question to start out about the book [2017's 'What Does This Button Do'] is – why now? Why was this the right time to write your story?
"The last time I was here, I've just gotten over this whole, like, throat-cancer thing. So I was on the big tour to talk about the new album and basically – not to be too dark about it – to persuade people that I was not checking out, you know.

"So, that seemed to me to be a good end point for a book. Not that I'm thinking of ending anything, but you know, the whole cancer thing struck me as being a good way to end a book and a good way to start the rest of your life.

"I know that sport-stars write autobiographies when they're 25, and then subsequently when they're 26 and then when they're 27 and then whenever they develop some new life skill or do a reality show.

"I didn't want to do that, I thought that, 'Well, let's just do one,' and this kind of provoked it, the whole thing about the throat cancer scare. I thought, 'I should probably get on with this. You never know, just in case.' So, that's why now."
You mentioned when we last talked – which was the promo for [2015's] 'The Book of Souls' – we've done a few things together, and I admit I was kind of surprised that you were the representative sort of picked by management and the band to go out there and do the promo for that, considering that you had just come off the chemo, which is documented. So was that the mentality of it?
"Yeah, I just need the air miles, you know."
Do you even collect air miles anymore, do you actually fly the plane?
"No, you don't get air miles for flying the plane. If I did, then yeah, I don't know what I'd do with them."
The title of the book, 'What Does This Button Do,' where did that come from?
"It is what people say when they get into an airplane cockpit or they get into a flight simulator or whatever, and the first thing, like, people have never been in one before, they go, 'What all these buttons do?', you know. And so pilots always make a joke out of it, like, you know, 'I don't know, let's see, hmm, what does this button do?'.

"And I thought that was kind of a metaphor for my life because, basically, I've lived my life by the philosophy of, 'Oh, I wonder what happens if I do this,' you know. In a bizarre way, the book almost looks like there was an intention behind everything, but actually, it's kind of random."
When I think of you and I think of Maiden in general, I think of a band that's very sort of private and insulated in terms of sharing a lot of public stories. Not a band that's ever out there in the gossipy circles. A band as big as Maiden, you could understand showing up on the Page Sixes of the world, wherever, but sort of private. Was there any pushback from anybody within the camp?
"Nobody's ready… Rod [Smallwood, manager] read through it and he made some comments and I went, 'Hm, okay, let's just see where we go when we finish the editing process.' And the editing process was – there's no ghost writer here, so I wrote this book, and I wrote it longhand on paper with a biro on paper.

"So one hundred and sixty thousand words on paper, and there's about a hundred and five thousand words in there, so we edited out the rest of 40-something thousand words, and the reason we edited them out is because my editor, Jack Falk, said, 'Look, this is a great read, but I wanted to read, like, a novel, I want it to be a real page-turner. So when you've got three stories about an airplane one after the other – we don't need three, we just need one.'

"I took it on board, even though they're great stories. There were some stories about a couple of drunken nights with Heathen, and they were great stories, but he said, 'Look, we've got one story about that, so we don't need another one, and another one, and another one.'

"I said, 'Yeah, okay' at that point because otherwise, I'd have 400 pages. The book's a thundering good read, and I know some people have gone, 'I read it at one sitting.' That's kind of intrepid, but still, it makes the point that it's not like a doorstep or a weapon of mass destruction."