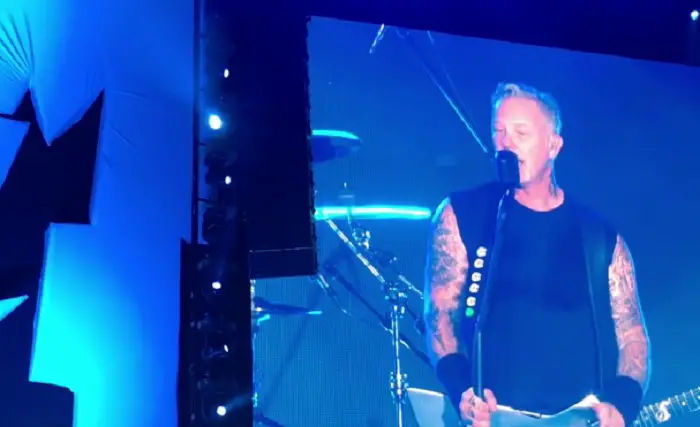 METALLICA performed at August 14 concert at PNC Park in Pittsburgh, Pennsylvania. During "Fade To Black" performance, band's frontman James Hetfield paused to share an emotional statement.
"Are you feeling good right now? You've all felt darkness before? This song is about something we're not supposed to talk about. We're not supposed to talk about suicide, right? 'Cause it's scary. It's really scary. Everyone here's been touched by one way or another. You all struggle, we all know what darkness is. And if you are feeling like you need to take your all life, please not. Please wait. Please talk to somebody, somebody loves you always. There is someone who will listen. And I love you, no matter what. No matter what you've done. You are not alone!"
Just day before the concert, TMZ reported that James and his wife, Francesca, of more than two decades had called it quits.
TMZ reported that sources close to the former couple told them James filed divorce docs against Francesca in Colorado earlier this year. The filing was apparently never reported, and the couple kept it out of the spotlight.
On August 16, Francesca released the following short statement to TMZ: "After 30 years of ups and downs but always with a lot of love, I am extremely saddened that my marriage has come to this."
Hetfield married Francesca in 1997, and together they have three children. During an interview on NPR's Fresh Air, Hetfield stated that his wife had helped him to mature and learn to deal with his anger issues more constructively, explaining that after they met, his destructive tendencies embarrassed both of them.
Back in September 2019, Hetfield re-entered a treatment program to work on his recovery from alcohol addiction. He had previously been to rehab nearly two decades earlier for the same problem.