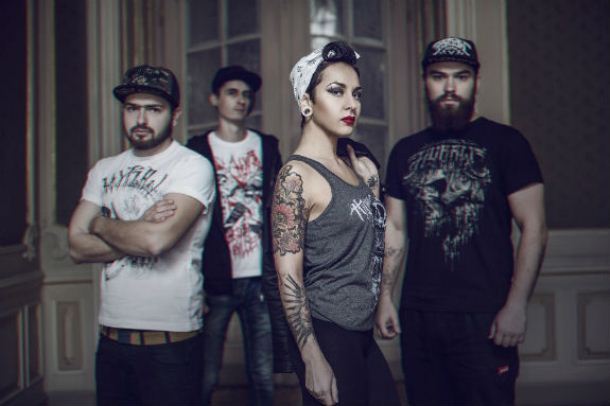 After the successful & critically acclaimed album release of "King Of Everything" the band JINJER around Tatiana Shmailyuk will hit the road for some heavy headling shows in Europe! We can't wait to see Ukraine's best-kept extreme metal secret live!
JINJER represent an incredibly catchy mix of metalcore, djent, hardcore, and groove metal.  With feisty growls and soul-shattering clean vocals, front-woman extraordinaire Tatiana Shmailyuk holds the balancing elements that keep it all together and guarantee to rattle your bones!
Their latest official video for "I Speak Astronomy" released a month ago can be heard here.
Metal Hammer UK:
"A master-class in state-of-the-art brutality with balls and brains in equal amounts…Jinjer fucking slay!"
Metal Obs, France:
"Definitely a modern piece of work, which won't let you stay indifferent to it !"
Metalized, DK:
"Jinjer is the modern day version of Pantera kickin it hard as stone on this new album!"
Check out all the tour dates below:
28.09.16 PL – Sulecin / U Bulka club
29.09.16 DE – Frankfurt / Elfer club
30.09.16 DE – Wachenroth / Toxicity
01.10.16 CH – Sursee / Braustation club
02.10.16 DE – Cologne / Euroblastfestival
03.10.16 DE – Hamburg / Logo
04.10.16 DE – MUENCHEN / Backstage
07.10.16 CH – Geneva / La Makhno club
08.10.16 IT – Cordenons / Rock Town club
11.10.16 ES – Bilbao / Edaska club
12.10.16 ES – Madrid / Lemon club ( with THE AGONIST)
13.10.16 PT – Cascais / Stairway club
14.10.16 ES – Malaga / Velvet club
15.10.16 ES – Alicante / Babel club
16.10.16 ES – Barcelona / Be Cool club
20.10.16 FR – Paris / Lebuspalladium club
21.10.16 PL – Zabrze / The CK Wiatrak club
28.10.16 AT – Vienna / Viper club
29.10.16 AT – Worgl / Komma club
05.11.16 ISR – Tel Aviv / The Zone