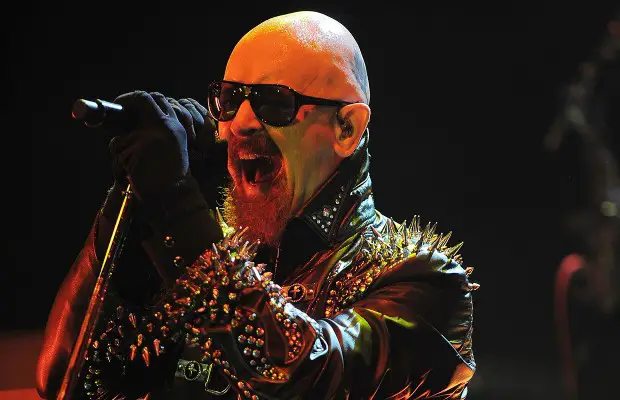 During a recent interview on RadioactiveMike Z, JUDAS PRIEST frontman Rob Halford was asked if he and his bandmates would ever consider making a "sequel" to their classic 1990 album Painkiller. 
"The joy of PRIEST is that, by definition, I think every record that we've made is what we call, it's got its own legs to stand on," Rob responded. "So, from Rocka Rolla all the through to Firepower, I think there's a defining separation of where the band is in that moment in time. And we've always been very strong on avoiding replication.
"That's not to say that you can't have intense, fast metal songs that have a similar flavor, but they have very strong individual identities. And I think it's a case of 'let sleeping metal gods lie,' in that respect, to reference to Painkiller. Because I think if you try to emulate the real soul and spirit of Painkiller — I'm sure we'd have a really good go at it, but it wouldn't capture it; it wouldn't come close.
"It's just such a unique record in so many ways — the songs, the engineering, the sound of the hi-hat, the mic I used — all these vitally important nuances that go into making a record, you can't really truly replicate them and capture the essence again," he continued. "So I think it's best to leave it as it is.
"Of course, the beautiful thing is that the Firepower record, the last PRIEST record, the last studio album, that got a tremendous amounts of focus and traction to what it did compared to the records previous to that one.
"Any band will tell you, you never really know what the outcome is gonna be, and when we got in the studio to make Firepower happen after we'd written the songs, we'd brought in this incredible production team that made amazing things happen, [and] we had another really special moment in this band's history.
"You reference PRIEST, and people go, 'Oh, it was Sad Wings Of Destiny.' 'No, it was British Steel.' 'No, man, it was Screaming For Vengeance.' 'No. It was Painkiller.' And now for some people, Firepower is the one. So this is just part of this never-ending metal journey that PRIEST is on to keep making fresh metal happen."
Halford recently spoke about the progress of the songwriting sessions for the band's follow-up to 2018's Firepower album.
He said during a recent appearance on Lazer 103.3 radio station: "We've already started work on it. We had some great writing sessions in the early part of this year until the world came to a stop in late March. I came back here [home] to Phoenix just to chill and relax for a bit and get ready for another writing session. 'Cause that's what we need to do as a band.
"You make a bunch of work and then you walk away from it and then you go back to it later and re-analyze it and continue the growth of the record," he continued. "That's what we were doing then, and we're still doing it now — we're still putting bits and pieces together.
"It's an unusual way of making a record, but we're not the only band that's going through this situation in terms of creativity. You can't let this pandemic stop you; you've gotta try and still get as much out of life as you can."
Released in 2018, Firepower is the band's first studio album since 1988's Ram It Down to be produced by Tom Allom and the first one with Andy Sneap as co-producer. The album sold around 49,000 copies in the United States within its first week of release, debuting at No. 5 on the Billboard 200 chart, making it the band's highest-charting album in the US.