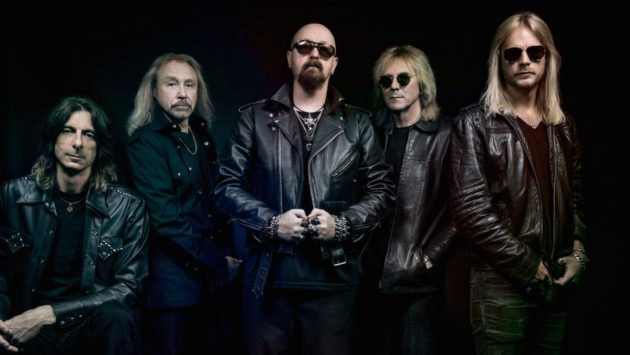 During a recent appearance on "That Jamieson Show," JUDAS PRIEST frontman Rob Halford spoke about the fact that the band still does not own the rights to its first two albums, Rocka Rolla (1974) and Sad Wings Of Destiny (1976), even though it's been four and a half decades since they were released.
"We've gone back and forth with the owners of those records," Halford said. "And it's a shame. I hope one day we can bring them back into the PRIEST fold, because they're valuable — they're like treasures, really. And I think that's probably why the people that still own them understand that, because they're keeping [the albums] rehashed and so forth.
"Like any band that's been privileged enough to have a long life like PRIEST — 50 years now — some extraordinary things happen in your first one, two, three albums," he continued "Especially the difference between Rocka Rolla and Sad Wings Of Destiny — it's just like this Grand Canyon effect in the way that the band really grew exponentially in such a short space of time.
"And yeah, we would love to get them back. We never say never. We keep going back to 'em every so often and say, 'Look, what's it gonna take?' Because they're important to us. And I'd like to feel that one day we'll own those masters again."
Halford recently spoke about the progress of the songwriting sessions for the band's follow-up to 2018's Firepower album.
He said during a recent appearance on Lazer 103.3 radio station: "We've already started work on it. We had some great writing sessions in the early part of this year until the world came to a stop in late March. I came back here [home] to Phoenix just to chill and relax for a bit and get ready for another writing session. 'Cause that's what we need to do as a band.
"You make a bunch of work and then you walk away from it and then you go back to it later and re-analyze it and continue the growth of the record," he continued. "That's what we were doing then, and we're still doing it now — we're still putting bits and pieces together.
"It's an unusual way of making a record, but we're not the only band that's going through this situation in terms of creativity. You can't let this pandemic stop you; you've gotta try and still get as much out of life as you can."
Released in 2018, Firepower is the band's first studio album since 1988's Ram It Down to be produced by Tom Allom and the first one with Andy Sneap as co-producer. The album sold around 49,000 copies in the United States within its first week of release, debuting at No. 5 on the Billboard 200 chart, making it the band's highest-charting album in the US.