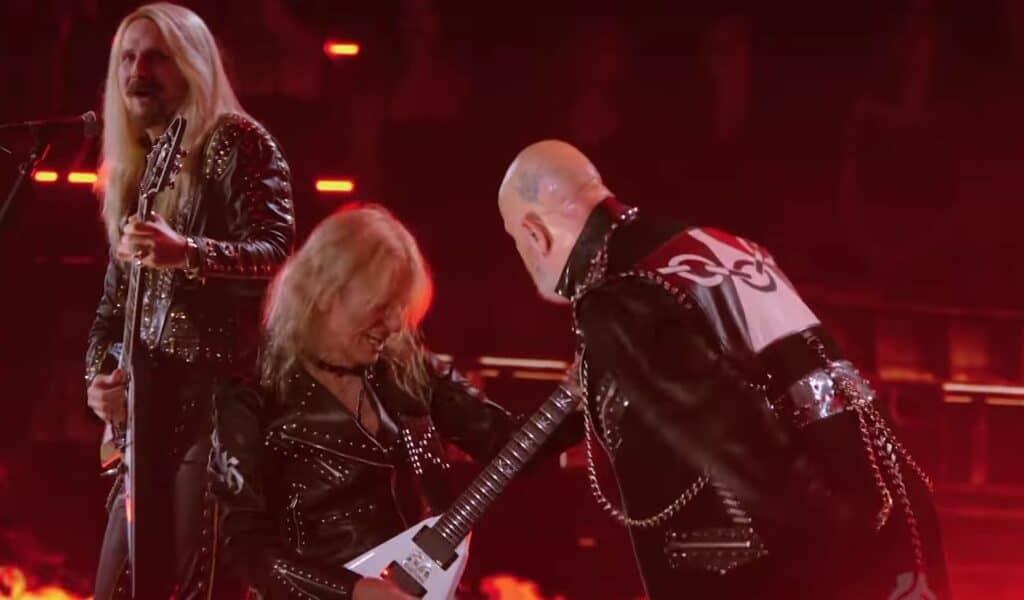 Former JUDAS PRIEST guitarist K.K. Downing has revealed in a brand new interview with Marko Syrjälä of Chaoszine that he was 'not allowed' to walk the red carpet with the band during the Rock and Roll Hall of Fame induction ceremony.
The guitarist felt it was 'all very sad' and expressed his disappointment with the way he was treated at the event, as he felt he was a guest of the Hall of Fame rather than a guest of the band. Despite these issues, Downing did attend the ceremony and performed with the band. He also had a brief exchange with the band's singer, Rob Halford, who he felt was being influenced by other members of the band.
"[PRIEST's] manager told us that we were guests of the band — me and Les [Binks, former PRIEST drummer]," Downing said. "I'm going, 'F**k off.' If anything, I'm a guest of the Rock And Roll Hall Of Fame, but I'm there to accept my own award in my own right. I'm not a guest of anybody.
|And then they were gonna dictate the songs and what was gonna [be] play[ed]. So I said, 'Oh, f**k. Should I bother doing this?' You know what I mean? 'Can I be really bothered?' And then people were saying, 'You've gotta go. It'll never happen again, obviously, in your lifetime. You deserve this.' And anyway, so I decided, 'Okay, I'll go.' But, obviously, we were kept separated and not allowed to walk the red carpet together, which is all very sad, but that's the way that they wanted it."
Downing shared that he had an amicable interaction with Richie Faulkner, his replacement in JUDAS PRIEST. Though Faulkner was not being inducted into the Rock Hall, he actively participated in the JUDAS PRIEST performance during the ceremony.
K.K. said: "Richie was great. Richie came into our dressing room. Richie was really — he was fine. Obviously, I am the real thing, aren't I? [Laughs] What can I say? [Laughs] What can I say? But, no, Richie's great; we get on well. And [PRIEST's current touring guitarist and producer] Andy Sneap's great; he's an old friend. As for the other guys, I don't care less about them. If they couldn't have just, like, at our age, just one time, just — you know what I mean? It was, just forget about it… But [it was] not to be, so [I] can't help that.
"But anyway, I went there and, yeah, I thoroughly enjoyed it, really," he added. "I rented some equipment, and luckily I had a couple of brand new guitars over there that I'd never seen or played. So, yeah, it was easy and fun. It was an experience, to be honest."
As for his brief chat with Rob Halford, Downing said: "Rob came over to me, and I [initially] didn't wanna speak to him, because he left the band for 14 years and I was instrumental in reinstating him back in the band, having him back in. And then he tells me that I can't rejoin the band. How does that work? I don't know how that works."
K.K. added: "It's [PRIEST guitarist] Glenn [Tipton] and [PRIEST's longtime manager] Jayne [Andrews] who make all the decisions [for the band], and, I hate to say it, but Rob is just… I really think that… The only reason I spoke to Rob [at the Rock Hall] is because I think he's being controlled. That's the only reason. I don't believe that Rob voted not to have me [back] in [PRIEST]. I think he was forced to. I think Rob would have voted me in. But it was their choice. And now Richie's off doing his own thing with [his side project] ELEGANT WEAPONS and everything. So it's not looking great for him, really, is it?"