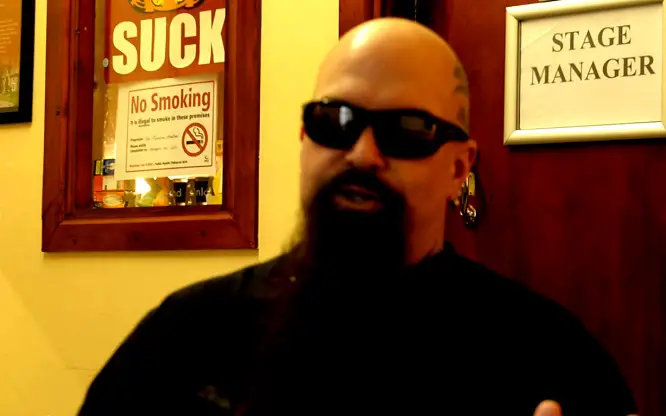 SLAYER axeman Kerry King was interviewed by Ronan McGreevy of The Irish Times on June 14 in Dublin, Ireland. Entire interview can be viewed below. A couple of excerpts follow (as transcribed by Blabbermouth.net).
The recent attack on Orlando's Pulse nightclub, which shared similarities to the 2015 massacre at the Bataclan in Paris:
Kerry: "The world's a nasty place. I love living. I love being part of this destructive human race. But there's still so many things that aren't right with it, like that. You know, after [the Bataclan attack], we had just come through France, like a week prior to that, and then right after that, Belgium happened, and we had just gone through Belgium. But, you, know does it cross my mind? Absolutely. Do I worry about it? No, because then I'm giving in to what they're trying to achieve and alter my way of life. Is there security? Yeah, there's security. Is somebody that's nuts gonna come in with a gun and shoot everybody? Yeah, it's gonna happen somewhere — it might be my gig, it might not be my gig. But I can only prepare myself so much and then forget about it."
On mortality:
Kerry: "Some people just think they're invincible. I mean, I did. I'm 50 now. And, you know, you get older, and people around you that you know start dying because you're getting to that age, and it sucks, and it makes you think of your mortality a little bit. Do I change what I do? Not as much as I should; I'm still a little bit 'invincible.' But, you know, it's also just part of getting to that age. We were in an age of an explosion of rock in music and metal, and now people in that genre that started it are getting old, and when people get old, they die, and it sucks, and we're gonna miss these people. And along the way, we [lost] Randy Rhoads, Dime [Dimebag Darrell Abbott], [Ronnie James] Dio, who had a full career, but he died way too young."
On MOTÖRHEAD's Lemmy:
Kerry: "I love Lemmy. I wish I went to his birthday [bash in December 2015], because I didn't know he was gonna die a couple of weeks later. But Lemmy lived a hard life. It never would have surprised me over the last ten years if I got news, 'Hey, Lemmy passed away today.' I would have said, 'That's a bummer.' But it wouldn't have surprised me, 'cause I know how Lemmy lived."
On whether he misses late SLAYER guitarist Jeff Hannemann:
Kerry: "Of course I miss Jeff. And, you know, that could be a severe downward spiral if I dwelled on that too much. And I don't dwell on it. I think about it, and I have regrets. And does it suck? Of course it sucks. But at the end of that mourning, I've either gotta go find a new job or carry on. I've been working too long doing this — too long working on this, too long achieving our level of history, continuity… You know, 30, 35 years deep in recording history, that's a long time that most people don't get to say they had."
SLAYER's latest album, "Repentless", was released on September 11, 2015, and is the first Slayer album to feature guitarist Gary Holt of EXODUS and the first to feature drummer Paul Bostaph since 2001's God Hates Us All. Repentless is also SLAYER's first album following the death of Jeff Hanneman in 2013, and the band's first album to be released on Nuclear Blast.