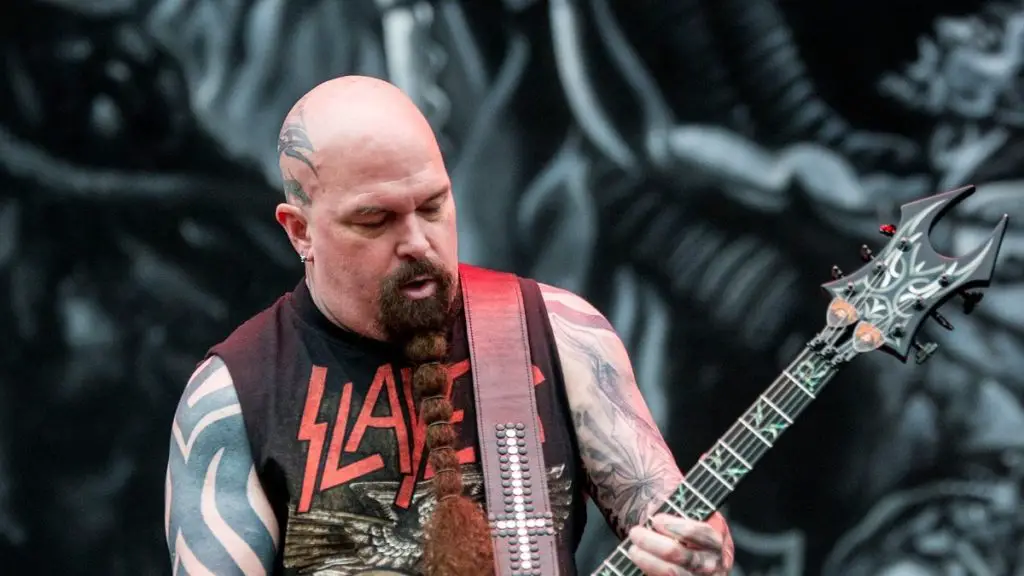 Nikki Blakk, who pioneered San Francisco Bay Area's rock radio station 107.7 The Bone, revealed that she has heard most of the songs that will appear on the debut album from King's new group while visiting Kerry and his wife Ayesha at their home in New York City earlier this week.
Nikki took to her Facebook page to share a photo of her with the couple, and she included the following message: "I heard the new #KerryKing songs last night & they are CRUSHING. The world hasn't been the same without SLAYER But, now I'm looking forward to 2023. …and yes, I know who's in the band, but NO, I won't tell you. Sorry Blabbermouth.net #AboutLastNight #Slayer #NotSlayer #Metal."
"It sounds killer! I loved all of it," she later added. "Not a clunker in the bunch! I think I heard 8 or 9 songs."
After one of her Facebook friends opined that late SLAYER guitarist Jeff Hanneman wrote the group's best songs "that will never be outdone by Kerry's new band" and that original SLAYER drummer Dave Lombardo is "the greatest thrash metal drummer ever," Blakk responded: "Jeff wrote a lot of their greatest songs, but far from all of them. Not to mention, many were written by King/Hanneman together.
"I'm not going to have the Lombardo/Bostaph argument, cause they're both killer drummers, but they couldn't be more different in style, for 2 guys who played the same songs. Personally, I'm #TeamBostaph, but it's purely subjective. Lastly, Kerry was a major contributor to the SLAYER could and towards the end, he orchestrated nearly all of it, so anything he does will be on par with SLAYER."
In a recent interview with Metal Hammer magazine, Kerry King said that we won't have to wait too much to hear music from his new project.
 "You know me, so you know what it's going to sound like," Kerry said. "I played this new song for a buddy, and I said to him, 'If there's anything I've written in the last few years that sounds like SLAYER, it's this.' And he said, 'That sounds like you could have pulled it off of any SLAYER record.' I actually made that riff up backstage at a SLAYER show. We were walking to the stage and I got my phone out and recorded it so I wouldn't forget it."
He also confirmed that former SLAYER drummer Paul Bostaph is involved with the project.
"We just started rehearsing and the only person I can give away is Paul because I took him from SLAYER and we work very well together," King said. "We didn't start rehearsing until the end of March, and that was the first time since that last SLAYER show at the end of 2019 that me and Paul finally got into a room together."
"Had it have been up to me then I'd have been out in 2020," he continued. "But that thing called the pandemic f*cked everything up for everyone. You know, I waited on that, because it had to run its course. I didn't want to be the guinea pig; I didn't want to learn how to tour again. I already did my dues; I don't want to have to prove myself again.
"Have I been dragging my feet? Yeah, because I wanted this [pandemic] sh*t to get sorted. I won't be dragging my feet much longer."
SLAYER played its final show of their farewell tour in November 2019 at the Forum in Los Angeles. One day later, Kerry King's wife, Ayesha King, said that there is "not a chance in hell" that the thrash metal icons will reunite for more shows.