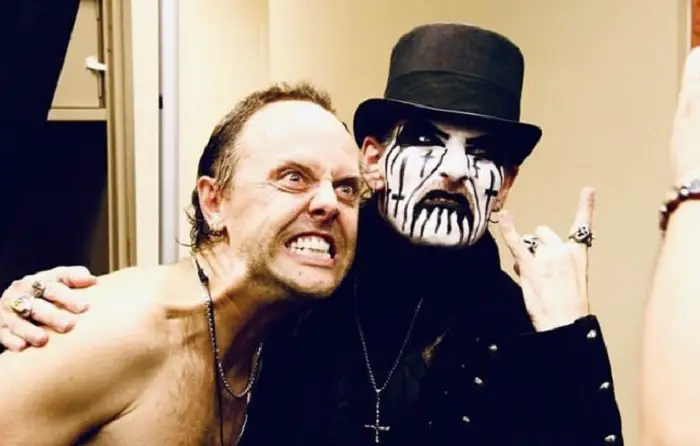 During a recent appearance on "Let There Be Talk" podcast, King Diamond was asked by comedian Dean Delray  if the royalties from the METALLICA tribute are "a good help" during the times when King Diamond's two bands — KING DIAMOND and MERCYFUL FATE — are not touring.
In 1998, METALLICA paid tribute to MERCYFUL FATE by recording a medley of classic MERCYFUL FATE songs on the album Garage Inc. Titled "Mercyful Fate," the medley included parts from "Satan's Fall," "Curse of the Pharaohs," "A Corpse Without Soul," "Into the Coven" and "Evil."
"Right when [METALLICA's medley] came out, yeah, it was nice. I got a Corvette out of it at the time. I got a black Corvette at the time that I could not have gotten otherwise," King responded. "I had a Trans Am — I sold that and got a Corvette. So that was the initial impact at the time.
"Now, it's, like, I guess if they do something special with it or whatever, then it does something, but that's not what I live off, I can tell you that. The same… I did something with VOLBEAT — the song that I did half the lyric for ['Room 24'] and it was nominated for a Grammy. But it's not like… I can't eat off of it; I can't pay rent or anything off it. But that's our own stuff that is doing quite well now; our own stuff is doing [well]. The tours are doing good. There's more projects going on all the time."
In an interview with Metal Hammer earlier this year, King said he was proud of having served as a musical inspiration for METALLICA. "They are the biggest metal band in the world, and for them to be inspired and to cover some of our songs, it's a huge honor. Lars [Ulrich, METALLICA drummer] called me from their studio and said, 'Want to hear something new?' and he played me their MERCYFUL FATE medley and told me it was going to be on an album. [I was[ blown away. We've played it a few times with them too."