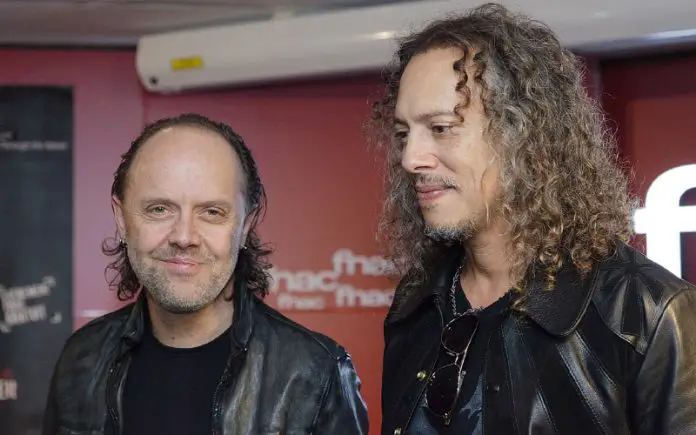 During a recent appearance on Let There Be Talk, METALLICA guitarist Kirk Hammett talked about the band's 1988 album …And Justice for All.
When asked if Justice is "really a prog-metal record," Kirk responded: "We just wanted to as weird as we could. And at that particular point in time, a lot of what was popular then was music that really showed-off musicianship. That was probably the heyday of guitar albums like Joe Satriani's albums.
"You had a lot of these really commercial hair-metal bands with these guitar players who just play incredibly, but the songs were f*cking crappy," he continued. "That was kind of, like, the thinking, you know, 'Let's show how much of our musicianship is actually there.'
"And it became a vehicle to just show our musicianship, basically, and I was happy to do it because I come from a place where that was kind of centered. And what I mean by that is: Joe Satriani's album [likely referring to Joe's 1987 sophomore album Surfing With the Alien] was, like, the f*cking biggest thing around that time.
"And I think at one point Lars was taking drum lessons from Joe Satriani's drummer [Jeff Campitelli] and so he had just a whole new perspective and approach on his drums, and so we wanted to implement that musicianship into the sound, and that's what became …And Justice for All, basically."
Tickets for METALLICA's 2020 tour dates can be found here.
METALLICA frontman James Hetfield made his first major public appearance on January 30 since entering rehab, when an exhibit featuring 10 of his classic custom cars opened with a ticketed reception at the Petersen Automotive Museum in Los Angeles.
Video footage from the exhibit can be seen at this location.
This marked Hetfield's first public appearance since last fall when METALLICA postponed announced tour of Australia and New Zealand as James re-entered a treatment program to work on his recovery from alcohol addiction.