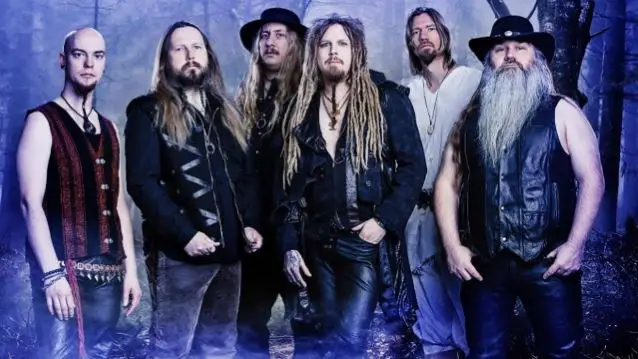 Finnish Folk Metal Superstars KORPIKLAANI are currently in the studio, working on the follow-up of 2015's "Noita", before they'll embark on an extensive European headline run with support from Russia's ARKONA, Dutch men HEIDEVOLK as well as Norwegian True Balkan Metallers TROLLFEST. The billing will be completed with EVERTALE, BLACK MESSIAH and THE PRIVATEER on select dates.
KORPIKLAANI have launched a first trailer in which Jonne, Matson and Sami are greeting from the studio. You can check it out below.
In addition, the band can announce that the first show of their upcoming trek is already completely sold out – Prague on March 1st, 2018.
KORPIKLAANI – Europe 2018
w/ ARKONA, HEIDEVOLK, TROLLFEST
15.02. B Antwerp – Trix
16.02. D Hamburg – Markthalle*
17.02. D Oberhausen – Turbinenhalle 2*
18.02. NL Amsterdam – Melkweg
19.02. D Saarbrücken – Garage**
20.02. F Paris – Elysée Montmartre
21.02. F Nantes – Stereolux
22.02. F Toulouse – Le Bikini
23.02. E Madrid – Sala But
24.02. E Barcelona – Salamandra 1
25.02. F Lyon – Transbordeur
26.02. CH Vevey – The Rocking Chair**
27.02. D Aschaffenburg – Colos-Saal
28.02. D Berlin – Columbia Theater
01.03. CZ Prague – Meet Factory
02.03. D Munich – Backstage*
03.03. D Stuttgart – LKA*
04.03. CH Pratteln – Z7*
05.03. I Milan – Magazzini Generali
06.03. A Salzburg – Rockhouse**
07.03. A Graz – Orpheum
08.03. A Vienna – Simm City
09.03. D Leipzig – Hellraiser*
10.03. D Geiselwind – Musichall*
11.03. D Hanover – Capitol
06.07. Barcelona (Rock Fest)