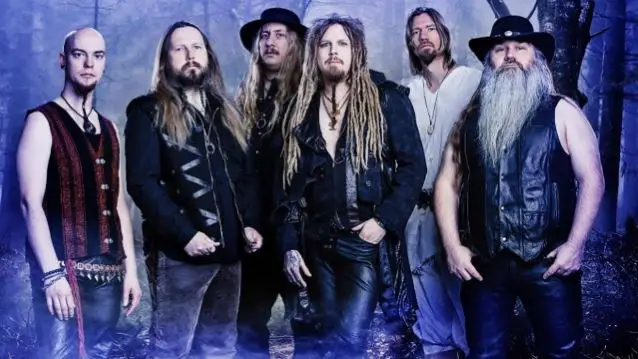 Finnish Folk Metal Superstars KORPIKLAANI recently announced the release of their new studio album entitled "Kulkija" ("Wanderer") for September 7th, 2018 via Nuclear Blast. To celebrate the start of their summer festival tour, the band has revealed the first single, 'Kotikonnut', from their upcoming record. Watch the accompanying lyric video below.
Accordionist Sami, who has also written the track, states, "It's a midtempo song with a lot of melodies. It was surprising how our lyricist managed to write it, he really captured the feeling and the character of the song. We hope you enjoy it as much as we do!"
About 'Kotikonnut' ("Homestead"): During his journey, a wanderer yearningly looks back on his home, childhood and the beauty of everything. He remembers running with his girl on the meadow, believing it to last till the end of times. Although his home is now the road and a carriage run by joy, he will still always remember the happiness of his home and youth. At the time the moon was golden, shining everywhere at night, lighting up the otherwise dark countryside and the forest. The wanderer eventually accepts that everything that comes, will one day fade into a distant memory.
With 14 tracks and a total running time of over 71 minutes, "Kulkija" is the group's longest album to date. Working with producer Janne Saksa for the first time, the album was recorded at Petrax Studio (Hollola, FIN) and mixed at Sound Supreme Studios(Hämeenlinna, FIN). Mastering duties were handled by renowned engineer Svante Forsbäck (RAMMSTEIN a.o.).
The cover was designed by Jan Yrlund (BATTLE BEAST, MANOWAR etc.), who has already created several artworks for previous albums and singles for the band.
Founding member Jonne commented: "We've never been as satisfied with a final result as we are with »Kulkija«. We tried to keep it very natural. Like the wanderer, this album is a journey, one that makes you feel good."
Sami added:
"'Kulkija' isn't just a collection of songs, it's a "real" album with a unique atmosphere guiding the listeners through a long journey. All songs were well prepared in advance and nothing needed to be arranged in the studio. Tuomas [fiddle] & I had lots of space to develop and play the folk arrangements."