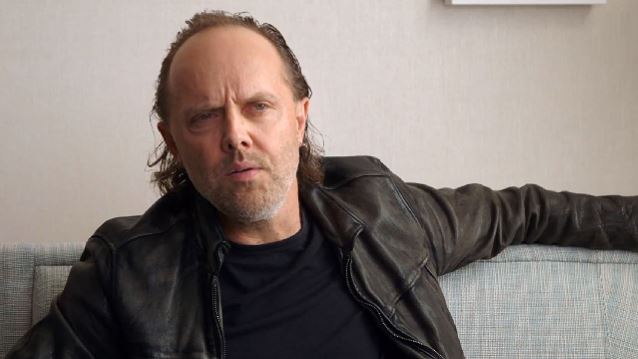 METALLICA drummer Lars Ulrich inducted DEEP PURPLE into the Rock And Roll Hall Of Fame on April 8 in Brooklyn, New York and he talked about the undeserved long wait to get in, Ritchie Blackmore not showing up, and who he'd like to see get in next.
Asked which artists he would like to see inducted into the Rock Hall next, Ulrich said (as transcribed by Blabbermouth.net): "Well, obviously, there's a slew of people from back in the day who should be next. I don't have this prepared, so forgive me if it's somewhat out of whack. But I guess off the top my head, I would say MOTÖRHEAD, IRON MAIDEN, BACHMAN-TURNER OVERDRIVE… I don't know… JUDAS PRIEST at some point, maybe… I think the one band that is eligible next year, if my math is close to being right, is RAGE AGAINST THE MACHINE, who I hope we don't have to wait decades for to get in, because their influence is, obviously, immeasurable. And so I would say that of the sort of later-generation bands, RAGE AGAINST THE MACHINE, hopefully, should be on deck, ready to come. But from bands back in the day, I mean, you know, URIAH HEEP, JUDAS PRIEST, RAINBOW maybe at some point… Thinking in the '70s and the early '80s, obviously, IRON MAIDEN, MOTÖRHEAD, JUDAS PRIEST… The list goes on. I'll remember all of them as soon as I step off the stage."
On January 14, 2009, it was announced that METALLICA would be inducted into the Rock and Roll Hall of Fame on April 4, 2009, and that former bassist Jason Newsted—who left the band in 2001—would perform with the band at the ceremony. Initially, it was announced that the matter had been discussed and that bassist Trujillo had agreed not to play because he "wanted to see the Black Album band".However, during the band's set of "Master of Puppets" and "Enter Sandman", both Trujillo and Newsted were on stage. Ray Burton, father of the late Cliff Burton, accepted the honor on his behalf. Although he was not to be inducted with them, METALLICA invited Dave Mustaine to take part in the induction ceremony. Mustaine declined because of his touring commitments in Europe.