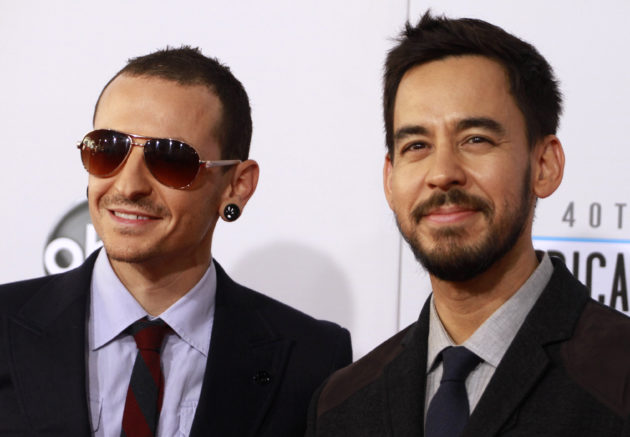 LINKIN PARK's Mike Shinoda, was a guest on "The Howard Stern Show" on Tuesday, February 14th, broadcasting from the SiriusXM studios in Los Angeles. During the show, Shinoda discussed the suicide of LINKIN PARK frontman Chester Bennington in 2017, and expressed that it was an extremely difficult period in his life, characterized by an array of complex emotions, including anger.
"Yeah, there's points when I felt that way," Mike said. "I'm sure for other people it was the same. Even fans too, by the way. And that's natural; that's normal. It's one of the stages of grief — anger's in there."
When asked by Stern if it was difficult working with someone struggling with depression, Shinoda responded: "Nobody knew the depths of it. When I met Chester, I didn't know his stories. As I got to know him, I would find myself oftentimes saying, 'I've never heard such a crazy upbringing, such a crazy childhood.' Running wild in the streets and doing hard drugs on the roof of his high school, just barely staying out of jail. And that's what made our dynamic what it was.
"I didn't grow up like that," Shinoda continued. "I felt like I was an outsider because I was a mixed-raced kid that didn't have a community to belong to. I'm half Japanese. I didn't speak Japanese; I don't look Japanese. The white kids thought I was obviously not white. The Latino kids were starting to speak to me in Spanish; I didn't speak any Spanish. I was always floating around and didn't have a 'home'."
When asked if Chester was a hard person to work with during their time in band, Mike replied: "No, not the whole time. Early days more difficult because we didn't know how it was gonna go. Like on early days Hybrid Theory, we were still getting started. And we'd get a win here, we'd get a loss there. 'We sent a song to radio; they're playing it.' 'Oh, the show is gonna be kind of a small show. It's gonna be hard to get there. You're gonna have to drive all night. It's gonna be tough. You're gonna be exhausted. Oh, by the way, we all just got sick.' It was hard. And so in the midst of all of that, having a guy who would sneak out. He'd just go missing and come back obliterated, that you couldn't even talk to him; he was just so wasted. But also funny.
"Ever see that Friends episode where they had the 'Fun Bobby'? The 'Fun Bobby' is hilarious — everybody loves him — and then the second he gets sober, nobody likes him anymore. There was an element of Chester that was very fun sometimes when he was that way, and usually the next day he'd be, like, so dark. He's super hung over; he's angry at everybody, yelling at everybody, and you're kind of just, like, 'Let's get through the day.'"
Bennington died of an apparent suicide Thursday morning, July 20, 2017, the Los Angeles County coroner confirmed. He was 41.