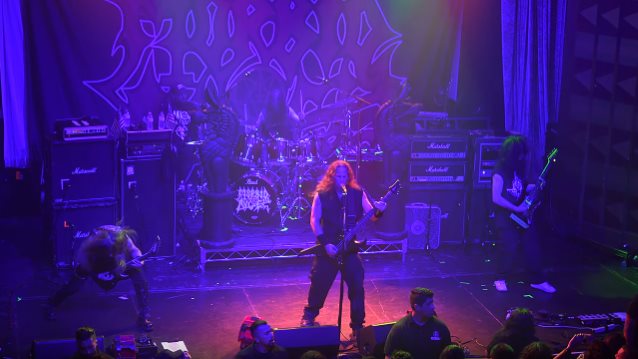 MORBID ANGEL has released the first single entitled "Piles Of Little Arms" from their upcoming album "Kingdoms Disdained", which will be released on December 1 via Silver Lining Music (JVC in Japan). Song can be heard below.
Tucker, who is back for his third spell with the group, told "The Metal Magdalene With Jet" show about MORBID ANGEL's approach on the upcoming album: "It was really just about writing music — it was just about writing a MORBID ANGEL album. Nobody said, 'Hey, we wanna go in this direction,' nobody said anything. I mean, there's obvious things there. I've said it before — I'm a death metal guy, so, for me, it's gonna be a death metal album; if I'm on it, it's death metal. So it was just about making a MORBID ANGEL album. It was really about coming in with something new, something fresh, but yet it still being MORBID ANGEL. Really, honestly, we didn't approach this any differently than any of the other albums I was involved in except for maybe [1998's] 'Formulas Fatal To The Flesh', which 'Formulas', Trey [Azagthoth, guitar] wrote all the music, all the lyrics and things like that. But this was done more similar to maybe [2000's] 'Gateways To Annihilation', where everybody had their contribution. Trey wrote a bunch of songs, I wrote songs, Scotty contributed some ideas. There was a lot of back-and-forth. In the end, it has to become a MORBID ANGEL song. And at this point, I feel that it's very much a MORBID ANGEL album."
MORBID ANGEL in January announced the addition of Dan Vadim Von (guitarist/frontman of the American death metal band VADIMVON) to the band's lineup on second guitar. He joined the group as the replacement for Norwegian guitarist Destructhor (a.k.a. Thor Anders Myhren), who left the band two years ago.
"Kingdoms Disdained" track listing:
01. Piles Of Little Arms
02. D.E.A.D.
03. Garden Of Disdain
04. The Righteous Voice
05. Architect And Iconoclast
06. Paradigms Warped
07. The Pillars Crumbling
08. For No Master
09. Declaring New Law (Secret Hell)
10. From The Hand Of Kings
11. The Fall Of Idols