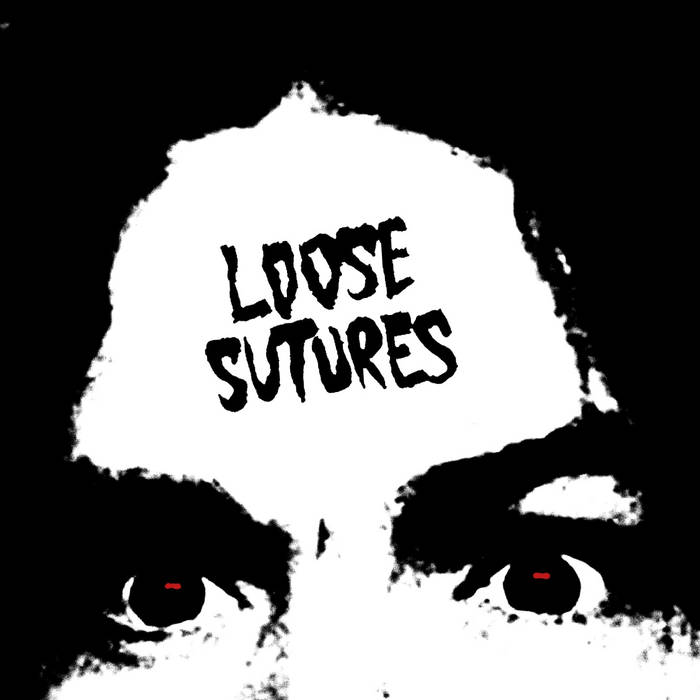 Loose Sutures is the prefect name for this band.  That's exactly what they are, loose sutures.  They roughly stitch together trademarks of MANY different musical  genres and influences to make their own sound.  With riffy, fuzzy guitars, pounding catchy drums, and wild aggressive vocals and energy it is not hard to hear influences of stoner-doom, garage, and punk.
This band plays with a style that is unapologetic, raw, and in your face.  They play music from the gut, not from the head.  The songs are punchy and quick,  they aren't polished or honed.  This music sounds like it tumbled out of a garage filled with four 17 year olds who just polished off their stolen case of beer.  
The band name coupled with the cover art gives no allusion about what lies within.  Charles Manson has been a pulp/indie icon for ages, it makes perfect sense for Loose Sutures to embrace his iconic mugshot photo as their album cover.  Slather the bands name across his forehead and you've got an invitation for anarchy.
The guitars on this album cover a wide spectrum of heavy goodness.  "Moisty  Sins" has a velvet honey thickness that at times shows ties with stoner-doom bands like The Well or Electric Wizard.  Then there are songs like "Lie" with guitars that offer a riffy, crunchy, distorted simplicity of early The White Stripes.    
Bouncy, solid, in the groove drums hold it all together and give it a garage rock undertone that adheres the guitars and vocals together and is the driving force that keeps them grounded.  "My Baby's Got the Blues" could have easily been an undiscovered bit of The Sonics catalogue from years ago only to be rehashed now by Sutures. 
The vocals at times are very representative of punk rock.  On songs like "Brutus" the lead singer sings with an in your face, often condescending, taunting, playground sass that has a delivery reminiscent of Johnny Rotten. 
Also peppered into this album are 5 sampled interviews from unknown sources.  These borderline incoherent interviews with presumable serial killers, born again drug addicts, the mentally ill, and hardened criminals are copied and pasted into the album with all of  grace of a first time zinester who stumbled upon an unmanned Xerox machine.  Sometimes this type of sampling works well if done right.  Polands Spaceslug and funeral doomsters Bell Witch have done some really cool things with these types of audio samples.  However, Loose Sutures haven't had as much luck with them, they feel a bit jagged and out of place.
Don't get it wrong, this album is rough.  It sounds like a cassette demo from a smoke filled rehearsal space jam sesh.  It's well done for what it is, but its harsh, rugged ways may prevent Loose Sutures from finding commercial success or finding a wide audience.  Their juvenile, rambunctious style might prove too much for some listeners.
Some listeners however will say its catchy, its invigorating, and its fun.  This album is a summertime girlfriend, you have fun with her, you'll remember her with fondness, but after two months you can't remember her name and aren't looking to spend anytime more with her.  Loose Sutures has finite relationship written all over it.  All of that said, Loose Sutures doesn't want to spend any more time with you either.  They don't want a long involved relationship, they want to get nasty, have some laughs, and throw you in a cab to go find your next band to listen to.
Track listing:
I
Moisty Sins
Ted's Grin
II
Sophomore Dream
Wish to Fuck a Dead Man
III
Lie
IV
My Baby's Got the Blues No More
Shoot It Down
Brutus
I Need a Million
V