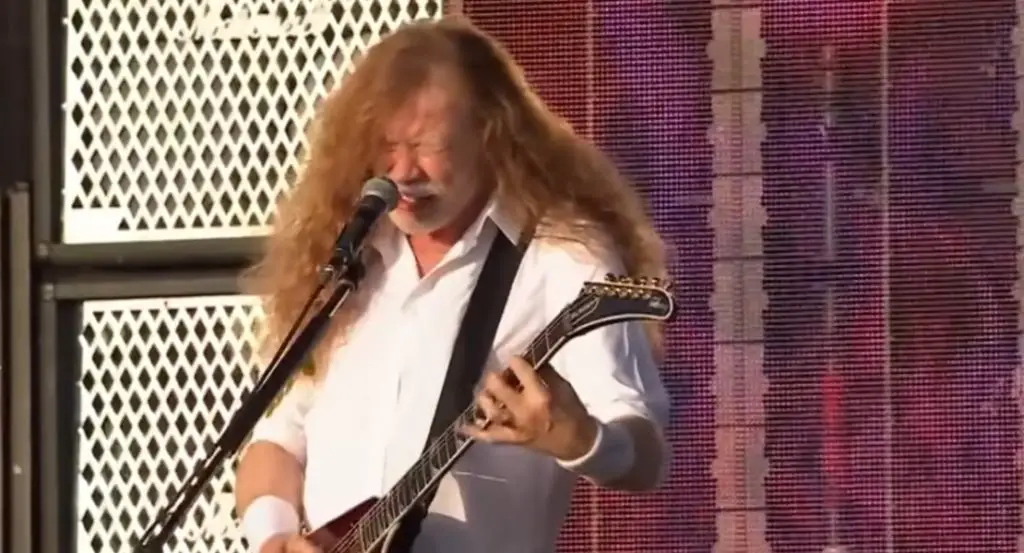 MEGADETH performed its new song "We'll Be Back" live for the first time this past Wednesday (August 24) at FivePoint Amphitheatre in Irvine, California. Video footage from the performance can be seen below.
MEGADETH will cap a summer of successful global touring with the release of its highly anticipated sixteenth studio album, The Sick, The Dying… And The Dead!, on September 2 via UMe.
Featuring twelve new tracks, The Sick, The Dying… And The Dead! will be made available on CD, vinyl, and cassette, as well as digitally through all online partners. There will also be a limited deluxe edition 2LP, 12-track album pressed on 180g black vinyl housed in a numbered gatefold jacket with a 12×24 lyrics/credits insert, a lenticular vinyl lithograph and a bonus seven-inch featuring "We'll Be Back" and the unreleased B-side "The Conjuring (Live)." The limited deluxe edition can only be purchased via MEGADETH's official online store, through Sound Of Vinyl and uDiscover.
The Sick, The Dying… And The Dead! track listing:
01. The Sick, The Dying… And The Dead!
02. Life In Hell
03. Night Stalkers (feat. Ice T)
04. Dogs Of Chernobyl
05. Sacrifice
06. Junkie
07. Psychopathy
08. Killing Time
09. Soldier On!
10. Célebutante
11. Mission To Mars
12. We'll Be Back
13. Police Truck (DEAD KENNEDYS cover)
14. This Planet's On Fire (Burn In Hell) (Sammy Hagar cover) (feat. Sammy Hagar)
You can pre-order album here.