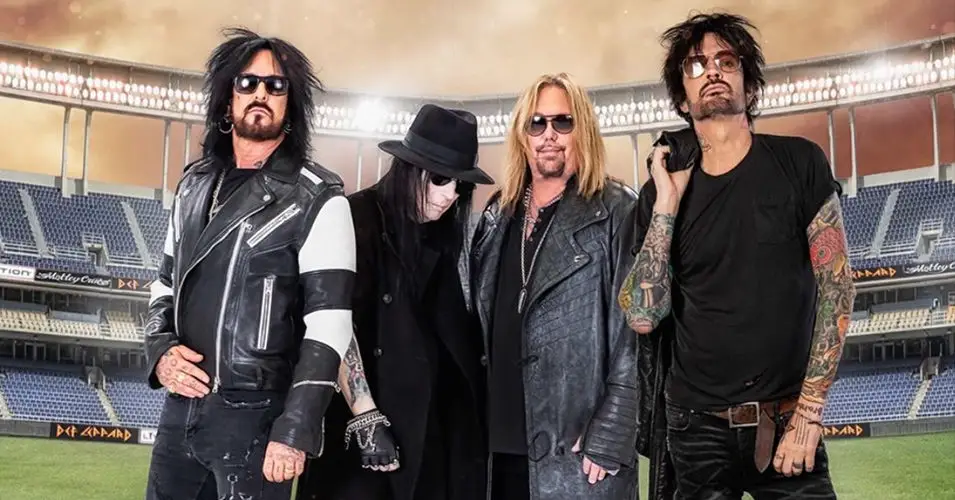 With MÖTLEY CRÜE having just wrapped up the final show of the U.S. leg of "The Stadium Tour," fans might be wondering if the band is done touring for good. But singer Vince Neil has assured fans that MÖTLEY CRÜE will continue to tour internationally, with plans to return to the U.S. in 2024.
"We're far from being over," Neil told John Katsilometes of the Las Vegas Review-Journal. "When we come back in '24, we're going to do it all over again."
Neil also confirmed that there are talks of CRÜE returning for a third residency in Vegas, where they previously played a series of shows at the Joint at the Hard Rock Hotel in 2012 and again in 2013.
"We have definitely talked about doing it, and everybody loves to do the residencies, so I say, 'Yeah, we're gonna do it,'" Neil said. "We just have to look at sometime in '24, to be back in Vegas. But we will be back."
He also said that band will only stick to touring and that there are no plans for new studio album.
"We are strictly a touring band," Neil said. "When you see this show at Allegiant, you'll see why. You're going to see something that's unbelievable, lights and lasers, three dancers. There are a lot of cool special effects, and a cool band putting on a rock show."
Earlier this year, DEF LEPPARD guitarist Phil Collen was asked if fans can expect "The Stadium Tour" in other parts of world, to which he responded: "Definitely. Obviously, this year we're touring the States with MÖTLEY CRÜE, POISON and Joan Jett. And that starts in a couple of [weeks]… But the tour is gonna be three years — at least three years — for the album [Diamond Star Halos]. [We're doing] America this [year]. Definitely next summer is gonna be Europe. And then South America, Australia [and] Japan — next year, hopefully at some point, we'll be playing all of those markets."
On whether if the same package of bands that touring U.S. will be touring through other countries, Phil said: "That's what they're talking about. Obviously, I can say, 'Yeah, let's do that,' but we've gotta ask them as well. But I think MÖTLEY CRÜE have signed up. So hopefully that's all gonna come, and Joan Jett and POISON. That would be amazing."