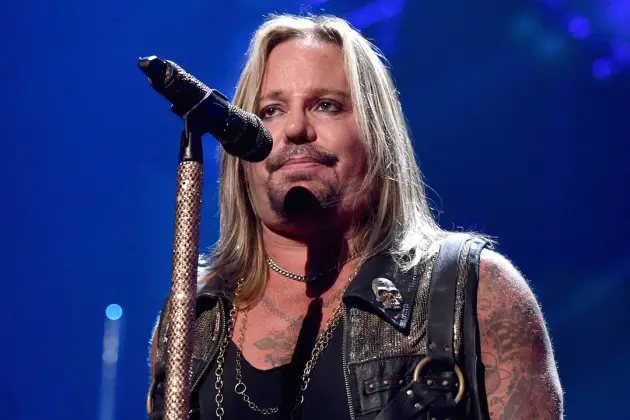 MÖTLEY CRÜE fans are buzzing about the band's new guitarist, John 5. After Mick Mars announced his retirement from touring due to health issues, fans were concerned that this would mean an end to MÖTLEY CRÜE. But with the addition of John 5, fans can rest assured that their favorite band will continue to rock out on stage for many years to come.
With this announcement, CRÜE fans took to social media and requested the band to also announce a new singer, following fans complaining about Vince Neil's average to bad performance every night on "The Stadium Tour."
Here are some of the fans' comments (via Metal Wani):
"They also need a new good singer"
"Tell you what. Seen the stadium tour in Edmonton Alberta. I've seen Crüe 6 times and Vince was a total disappointment."
"Get a new singer"
"They should hire a singer too…."
"How bout a new singer too w real Pipes?"
"Now if they could only get a good vocalist"
"He and Nikki are tight this is no surprise, but my complaint with this tour was Vince..he needs to be replaced"
"Huge crue fan since the 80s. Doesn't matter anymore who plays the music. .vince is done. They sound lousy. It is what it is."
"They should just STOP!! Vince Neil sounds terrible. Do as LED ZEPPELIN did. Lose a member and JUST STOP. I have always rocked out to their music."
Following their highly successful North American stadium tour of 2022, iconic and celebrated rock legends DEF LEPPARD and MÖTLEY CRÜE are going global in 2023 with their co-headline "The World Tour."
Produced by Live Nation, the tour kicks off on Saturday, February 18, 2023 at Foro Sol in Mexico City. Both bands will bring their electrifying stage shows across the globe with stops throughout Latin America before heading to Europe in May 2023 — which includes a stop at the iconic Wembley Stadium on Saturday, July 1, 2023 — then wrapping up in Glasgow, U.K. at Hampden Park on July 6, 2023. Stay tuned for additional 2023 shows to be announced soon.