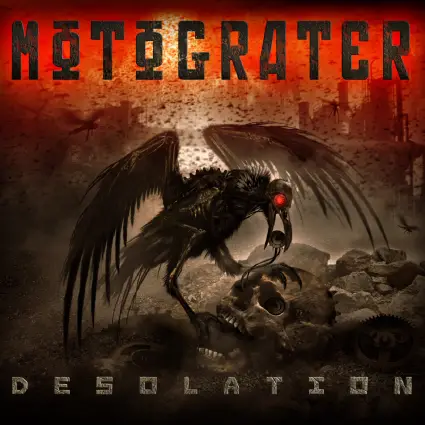 As I said before, some bands arrive here with a history. Motograter is, undoubtedly, one of them. For two main reasons: Motograter was formed in the distant year of 1995 having realeased until now only two full-length albums ("Motograter" and "Desolation"); and, its name is based on  a homemade springed/percussion instrument that's made of heavy cable, cranks, and gears. Well, I admit I was too curious to listen to that instrument, even though I wasn't sure if Motograter really used it or it was just an inspiration to the name. That was enough to drive my attention to it. So as soon as I received the file, I anxiously listened to the first track to check if Motograter deserved a close listen. Boys and girls! Motograter sure do.
Motograter's intent with "Desolation" is an alternative metal catch, not really that alternative as the first effort was, but still alternative. Most of the subgenre conventions are there: the voice and background effects, the vocal duet with an angry and harsh voice with a good clean and well-tuned one, a leading bass full of effects (and the motograter), and a pounding drumming very near to a percussion sometimes. Then you may ask: so what's Motograter's contribution to Metal? "Desolation" is a heavy, mature, consistent, full of angry, instrumentally well-played, and exciting album. Motograter's with "Desolation" can actually take that needed step ahead in their career. The diverse songwriting assures that, i.e., "Bleeding Through" has a different sounding intent with a jazzy drummin that we don't usually expect to find in Metal's songs, specially the in alternative ones. As I spoke about the drumming, the peculiar bass drums sound caught my attention. I initially thought they sound mechanical due to a peculiar tunning. But, on second thought, I realised it was the motograter which gave that unusual bass sound. How cool is that! You can notice it well in songs like "Daggers," for instance.
As I said before, "Desolation" is a pretty varied album. There are songs that are more alternative, nü metal to tell the truth; others sound more metal with real guitar solos, "Rise (There Will Be Blood)" is one of them. The outcome is an album that may please a great deal of listeners. Of course, if you listen to "Desolation" with no initial reserves.
P.S.: Dustin "Skunk" Anderson is the responsable for the motograter.
Track Listing:
 Parasite
Dorian
Victim
Paragon
Bleeding Through
Misanthropical
Daggers
Portrait of Decay
Locust
Rise (There Will Be Blood)
Shadows
Motograter's "Desolation" will hit the streets on August, 11th via EMP Label Group and you can pre-order it via iTunes. Also, you can listen to Motograter's "Desolation" via Spotify.
Watch "Parasite" official music video here: