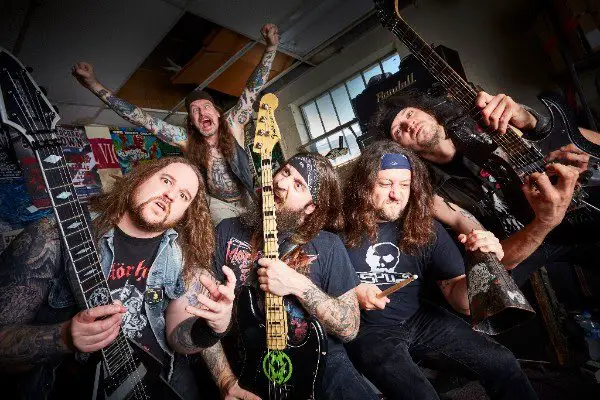 "Slime And Punishment", the sixth album by Richmond Virginia's MUNICIPAL WASTE, marked the band's highest first week sales as well as debuted at #3 on the Billboard Top New Artist / Heatseekers chart, #5 on the Current Hard Music Albums chart, #9 on the Independent Albums chart, and came in at #44 on the Top Current Albums chart. The band also landed at #75 on Canada's Hard Music chart and #180 on the Top Current Albums.
Tony Foresta comments: "We are so stoked about the first week album sales. We worked really hard on this record and are beyond thankful for our fans who stuck with us and everyone involved in making this record. Shout out to everyone at Nuclear Blast as well for their patience and support. Cheers!"
"Slime And Punishment" is the first WASTE album engineered by bassist Phil "Landphil" Hall at Blaze of Torment Studios in Richmond, VA. Mixing and mastering was completed by Bill Metoyer (SLAYER, W.A.S.P., LIZZY BORDEN and DARK ANGEL) in Hollywood, CA.