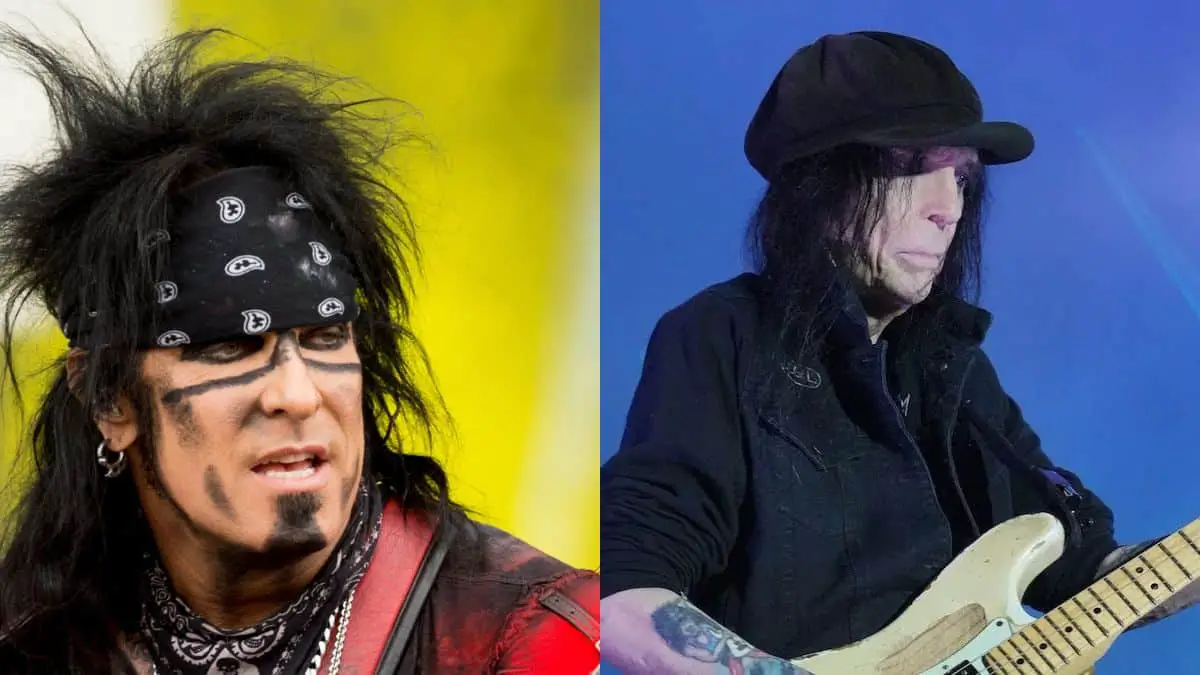 MÖTLEY CRÜE bassist Nikki Sixx has reacted to a lawsuit filed by Mick Mars against the band.
In the lawsuit, Mick alleges that MÖTLEY CRÜE reduced his share of earnings from 25 percent to a mere 5 percent after revealing his decision to withdraw from touring. Additionally, he states that the group's attorneys made him feel as if he should appreciate this minimal portion, as they believed they had no obligation to provide him with anything. Mick also asserts that a complete band gathering took place where they chose to "unilaterally" exclude him from MÖTLEY CRÜE.
Mick consistently alleged that bassist Nikki Sixx was "gaslighting" him by suggesting his guitar abilities were declining, even though Sixx didn't "play a single note on bass" throughout a recent tour, as stated by the guitarist. Mick asserts that all of Nikki's segments were pre-recorded.
Now, Sixx took to Twitter to write: "Sad day for us and we don't deserve this considering how many years we've been propping him up-We still wish him the best and hope he finds lawyers and managers who aren't damaging him. We love you Mick"
Yesterday, MÖTLEY CRÜE issued a statement on their own, where they wrote: "Mick's lawsuit is unfortunate and completely off-base. In 2008, Mick voted for and signed an agreement in which he and every other band member agreed that 'in no event shall any resigning shareholder be entitled to receive any monies attributable to live performances (i.e., tours).' After the last tour, Mick publicly resigned from MÖTLEY CRÜE. Despite the fact that the band did not owe Mick anything — and with Mick owing the band millions in advances that he did not pay back — the band offered Mick a generous compensation package to honor his career with the band. Manipulated by his manager and lawyer, Mick refused and chose to file this ugly public lawsuit. Equally unfortunate are his claims about the band's live performances. MÖTLEY CRÜE always performs its songs live but during the last tour Mick struggled to remember chords, played the wrong songs and made constant mistakes which led to his departure from the band. There are multiple declarations from the band's crew attesting to his decline. The band did everything to protect him, tried to keep these matters private to honor Mick's legacy and take the high road. Unfortunately, Mick chose to file this lawsuit to badmouth the band. The band feels empathy for Mick, wishes him well and hopes that he can get better guidance from his advisors who are driven by greed."
In the accompanying signed statements, seven team members express grievances regarding Mars' performance during the 2022 tour. Robert Long, who has been the band's production manager since 2007, shared these comments through the group's legal representatives to Variety: "When he is off, the band's entire performance suffers. Mick's performance during 'The Stadium Tour' was unworkable and very difficult to manage.
"It began with the band's rehearsals in April 2022. Mick would consistently forget chords and songs so the band would have to stop and re-teach those parts to Mick to remind him of the arrangements. … Mick's performance issues continued throughout the tour. He would consistently miss notes; play out of tune; play the wrong chords during a song; stay within a chorus of a song and never come out of it; forget the song that he was playing and start a different one; and would get lost in songs. This happened at every show. … Our playback engineer put in cues for Mick so that he would stay on course but he would miss the cues."
In his statement, tour manager Thomas Reitz proclaimed that "Mick was struggling, forgetting chords and songs. He was not up to speed with the songs and could not play his solos. The other band members spent hours trying to help Mick. Mick would often get frustrated and confused. I also witnessed the band and crew's frustration with Mick's mistakes first hand during the rehearsals. Mick's issues continued and got worse during the tour. Virtually at every concert, he played the wrong chords, wrong song or would forget what song he was playing. A sound technician would always need to have a backup track ready in case Mick played the wrong song or chord."
In his statement, the team's monitor engineer, Scott Megrath, mentioned that at specific moments "I had to make sure that the other band members would not get Mick's feed into their earpieces because that would confuse them and potentially ruin the show. Mick's mistakes happened on numerous occasions and at every show. In my years of experience, I have never seen mistakes like this by a guitarist on stage."