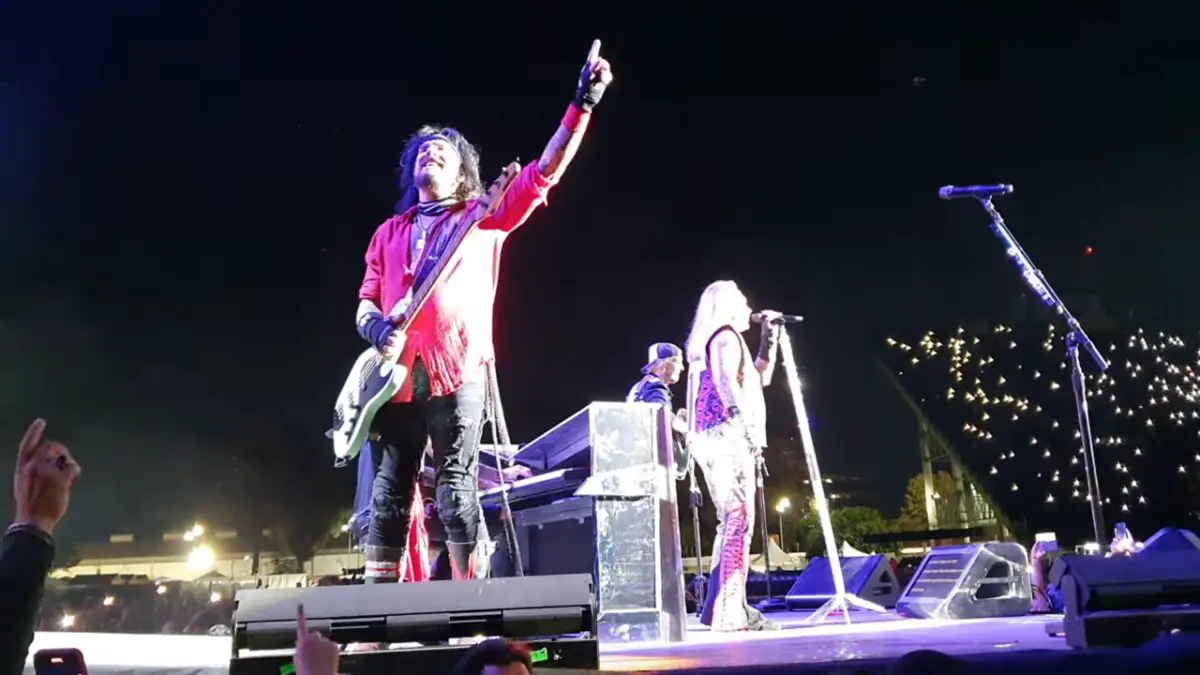 Last December, MÖTLEY CRÜE bassist Nikki Sixx participated in an interview with Brazil's A Rádio Rock, which was recently uploaded to YouTube. During the interview, Sixx was questioned about whether he and his fellow band members had plans to record new music.
He responded (as transcribed by Blabbermouth): "We just did those four songs for The Dirt soundtrack. We're pretty much locked down right now. We're having conversations beyond [2023]. So what's '24 look like for us in a touring capacity? As far as new music — I think new music always comes when the band is getting along. We get along so great right now. We've been having the best time. We spend time together. We go out to dinner.
"Tommy [Lee, MÖTLEY CRÜE drummer] just had his 60th-birthday party [last October] down in Mexico, and he invited a small group of his very good friends. And I was there, and a bunch of cool Tommy's friends, Nikki continued. "All of our wives were there. John 5 came in. And it was just cool to be able to not talk business, be in rehearsal, get on the phone, talk about the photo shoot or the video. It was just hanging out, walking on the beach. And we had some sweet conversations. Me and Tommy and Vince [Neil, MÖTLEY CRÜE singer] had this conversation. I said, I go,' What are you guys doing for the next eight years?' And everybody's laughing: 'I don't know.' I said, 'Why don't we just keep going? Let's just take it to 50 [years since the band's inception, which will be in 2031].'
"So this isn't a final tour," he added. "What does that look like? I have no idea. I'm just telling you, you have the band saying, 'We're having a blast. Why stop?'"
As previously reported, Mick Mars has retired from touring with MÖTLEY CRÜE due to worsening health issues, and has been replaced with John 5. Mars still remains as a member of the CRÜE, but he will not participate in any touring activities.
Following their highly successful North American stadium tour of 2022, iconic and celebrated rock legends DEF LEPPARD and MÖTLEY CRÜE are going global in 2023 with their co-headline "The World Tour."
Produced by Live Nation, the tour kicked off on Saturday, February 18, 2023 at Foro Sol in Mexico City. Both bands will bring their electrifying stage shows across the globe with stops throughout Latin America before heading to Europe in May 2023 — which includes a stop at the iconic Wembley Stadium on Saturday, July 1, 2023 — then wrapping up in Glasgow, U.K. at Hampden Park on July 6, 2023. Stay tuned for additional 2023 shows to be announced soon.