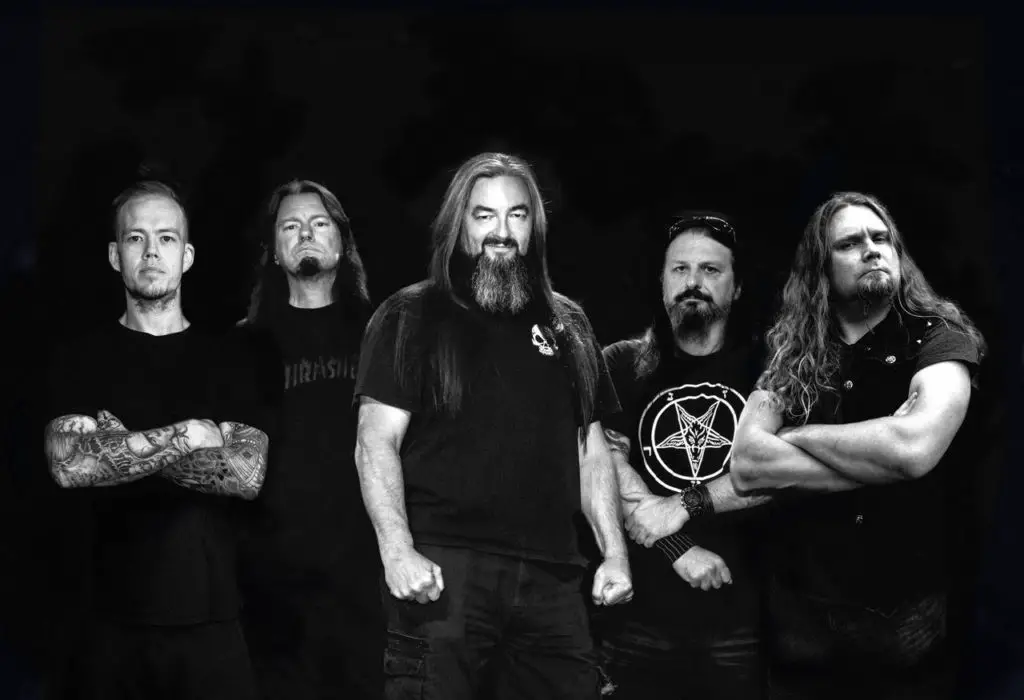 "A Perfect Day To Die", the new video from British thrashers ONSLAUGHT, can be seen below. The song is taken from the band's upcoming album, due later in the year via AFM Records.
Guitarist Nige Rockett comments: "We are super stoked to finally get some new material out to the fans.
"'A Perfect Day To Die' is a nod to our sadly departed friends from MOTÖRHEAD who were a major influence for ONSLAUGHT over the years.
"The track has been mixed by Jacob Hansen (VOLBEAT, U.D.O., EVERGREY) and produced by ourselves and Pete Hinton (SAXON). It sounds so heavy with a super-aggressive vibe. It really has a ton of potential.
"Right now, we're currently working flat out finish the remainder of the writing for the next record. Things are sounding so cool, fresh and very brutal."
ONSLAUGHT's upcoming album will be the band's first with its latest additions, drummer James Perry and guitarist Wayne Dorman.
Rockett told The Metal Crypt about his new bandmates: "James has been waiting in the wings to join the band for many years now. He's a longtime friend and helped us out on a South American tour back in 2013. He really is an incredible drummer. Strangely enough, James had e-mailed me around a month before Mic Hourihan left, saying if we ever needed him, he is ready and waiting, so bang, James was straight in; no drama whatsoever. It was a real easy transition and he already knew 80 percent of the songs. Regarding Wayne, we headhunted him through videos, etc. on YouTube. I really liked his guitar style and he is also an amazing vocalist, which helps massively with backing vocals and with the songwriting."
According to Nige, it was "hugely important" for him and his bandmates to find the right guys to step into the group. "Lineup changes can be a huge pain in the ass, so if and when it happens, you have to make changes that are going to improve the band and take it to another level musically," he said.
"As I said previously, we all knew James and what a great drummer he is so that chemistry was already in place. I had a lot of conversations with Wayne before he joined the band to make sure we were all on the same wavelength. He's very hungry for success and his enthusiasm for moving ONSLAUGHT onwards and upwards was very infectious and it's already paying off greatly as his contributions so far have been very positive."
Asked what the new ONSLAUGHT members have brought to the band, Nige said: "Both guys have brought with them musicianship of the highest order and a very relaxed and chilled attitude into the ONSLAUGHT camp. It's a very happy and cool place to be right now and it feels like there are no limits to what we can achieve with this lineup.
"From a guitar point of view, Wayne is one of the tightest players I've had the pleasure to share a stage with over the years, and we all love his style of soloing — it's pure, full-on metal; no-nonsense, no prisoners taken."
Nige said that he and his bandmates "always set the bar as high as possible with each and every record we make. I see no point or joy in making a new album that's not as good as your previous releases; that would just be conning ourselves and our fans," he explained. "So yeah, the bar is high and we're up for the challenge. I have a really good feeling about the new recordings."
ONSLAUGHT released a concert CD/DVD, "Live At The Slaughterhouse", in February 2016 via AFM. The 13-song set captured two performances in the U.K. (Bristol and London) featuring the lineup of Rockett, Sy Keeler (vocals), Jeff Williams (bass), Leigh Chambers (guitar) and Mic Hourihan (drums).