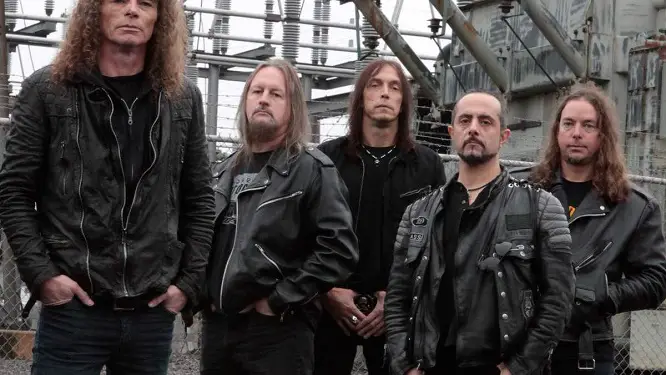 During an interview with Alternative Nation, OVERKILL frontman Bobby "Blitz" Ellsworth has revealed that the band's follow-up to 2014's "White Devil Armory" will be called "Grinding Wheel".
"I was just adjusting the lyrics for our upcoming album. We are inches from completion at this point. Just a few more guitar leads need to be done and a few more backing vocals need to be done. The majority of the tracks are finished. We are looking for a first-week-of-November release."
Asked how the new OVERKILL album will compare to the previous ones, Blitz said: "At the end of the day, OVERKILL is OVERKILL. Our trademark is that we are always recognizable on every release. For the three decades we have been around, we were always OVERKILL. So, sure, it is a metal record, and like always, it will have sort of a thrash vibe to it with some melody in it."
He continued: "It's always best to try to make it better, or at least think in your mind that it is going to be better. That becomes the challenge. I think that is what keeps the band rolling.
"A lot of bands are known for what they have done, but I feel being known for where you are and what you are doing is where true value lies. I feel we accomplished that on the last few albums."
OVERKILL's latest album, White Devil Armory was band's most successful album; it peaked at #31 on theBillboard 200, making it OVERKILL's highest chart position so far and it sold 8,600 copies in its first week in the U.S. In its second week, the album sold over 2,850 copies in the U.S., bringing the sales to over 11,000 copies and dropping to #99 on the Billboard 200. On the third week, the album dropped to #158 on the Billboard 200and sold 1,850 copies, totalling over 13,000 copies sold in its first 3 weeks.