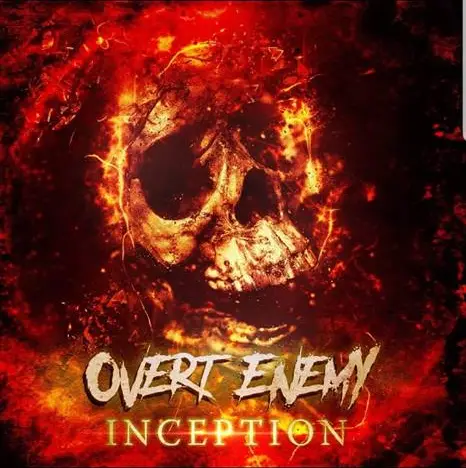 Most of us can point to one band who gives us all of our inspiration. That band's iconic songs stick with us forever and give our work a sense of direction. For me, that band is Iron Maiden. For Overt Enemy, that band is Slayer.
Overt Enemy formed in 2013 out of Mission, Texas. Initially, the group focused primarily on being the best Slayer tribute band they could be. They gained a large fanbase as a Slayer tribute band but soon started branching off with original material. After years of gigging and building a following, Overt Enemy finally found the time to produce their debut EP.
That EP, Inception, quickly gained a notable fanbase as listeners noticed its terrific power. The EP only contains three tracks, but all three are oozing with metal goodness.
The opening track, "Mercenary," starts with a grueling guitar lick that breaks into the main riff. After some great vocals from Leo Ortiz, he completely takes over with a couple of fantastic guitar solos. The second track, "Political Cancer," features a neat drum intro from Jaime Ayala. The guitar duo of Ortiz and Robert Hahn put a nice melody throughout the song. The riffs alone make "Political Cancer" my favorite song from Overt Enemy. Inception ends with the title-track instrumental,  "Inception." The song gives off doom-style vibes as it works both acoustic and electric elements. "Inception" is a great track that I could see fitting somewhere on a Black Sabbath release.
Overall, Overt Enemy has laid down a memorable EP. The debut works to bridge the band's future releases which should be worth the wait.
Inception was released through Confused Records on July 7, 2018.
Tracklisting:
Mercenary
Political Cancer
Inception