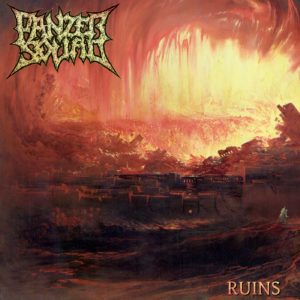 Another thrash band in the role. It seems bands come in packs. Doom, thrash, black, they come all in the same time.
Vocals in Panzer Squad are more ferocious than in their peers. First thing that calls the eyes in "Ruins." Almost a hardcore album with guitar solos. Almost because Panzer Squad use some thrash best techniques to not take prisoners. Each track in "Ruins" is a slaughter or butchery. They're fast, furious, restless, and full of wrath. The Metal equivalent to the end of the world. These are the things that attract me most in thrash. This social conflict, the social critic, the pure view of an impure society. That's the hardcore soul talking. No mercy to tyrants, to any kind of oppressors, to conformism, and everything else. Ah, if we could only change this world…
In "Ruins" tracks are short and direct. Interventions are straight-ahead and no more talking. A honorable exception to "Escapist" which opens with a slow-paced rhythm to end up in a violent song. It's also the longest song and the one with more plot twists. Panzer Squad are the band if you want to see how effective hardcore was into thrash. Sometimes, only sometimes as in the middle of "Sewer Rat" you have more intricate and complex instrumental sequences. That's not the idea, of course. Panzer Squad want to be the dirtiest as possible. It's a choice, naturally.
Well, I appreciate a lot this kind of musical honesty. The kind one-two-three-four and go. It's the variety in Metal that attracts me most. The possibility of listening to a band like Panzer Squad to go to a more melodic, or complex one in the same musical style.
Panzer Squad "Ruins" will be released on August 31st via Testimony Records.
Track Listing:
Extinction
Death Toll
Escapist
Sewer Rat
Societal Funeral
Singular Purpose
Shut in
Victims of War
Delusionist
Approaching the End
Zombie Shot
After the Bombs
Warsystem (Shitlickers Cover)
Watch "Extinction" official video here: