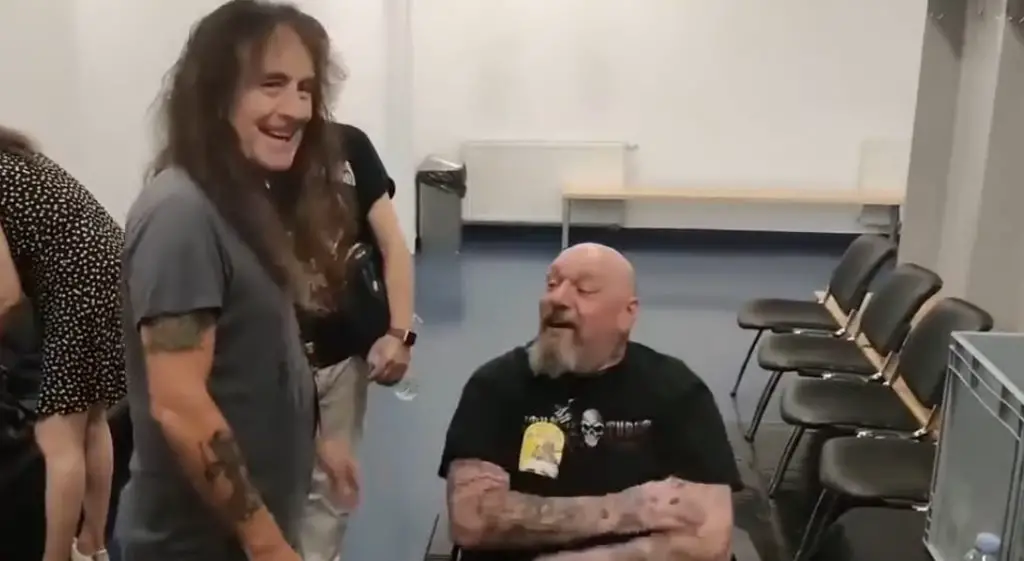 Former IRON MAIDEN frontman Paul Di'Anno came face to face with the band's bassist Steve Harris for the first time in three decades on May 22 before MAIDEN's concert in Croatia.
Harris came out before the show to greet Di'Anno and chat with him for a few minutes. Paul has spent the last few months in Croatia receiving physiotherapy and lymphatic drainage treatments in preparation for his upcoming knee surgery.
After their chat, Di'Anno stuck around long enough to watch some of MAIDEN's performance before leaving near the end of the set to avoid a huge traffic jam after the show.
In a new interview with Canada's The Metal Voice, Di'Anno spoke what was it like to meet Harris after all these years. "Last weekend was absolutely amazing," Di'Anno said. "'Cause me and Steve [have exchanged messages] about football [in the past]. But we actually hadn't met [face to face] for a long time. And it was brilliant, because I met up with Steve's sister Linda first, whom I hadn't seen her in about 30 years. And then [seeing] Steve was amazing, and then [meeting up with MAIDEN's longtime manager] Rod [Smallwood] as well, it's made my whole year, actually. It was fantastic. It was pretty awesome."
"I missed the MAIDEN show because I got swamped by bloody press and stuff, so I couldn't actually do anything to watch the band," he added.
When asked if it was "awkward" meeting up with Steve for the first time in 30 years, Paul said: "No. It was great. I wish I wasn't in this sort of position [being in a wheelchair]. Yeah, it was quite emotional. If it had been the first time we spoke together in 30 years, it would have been maybe a little bit more weird. But, as I said, we talk about football and stuff like that, and Steve phoned me up a couple of times from [his home in] the Bahamas."
Calling himself and Harris two "happy-go-lucky geezers" from London's East End, Paul went on to say that he owes Steve dinner "big time, because he looked after my missus and son over in the States on the last MAIDEN tour in Connecticut, in Hartford. He really looked after them — gave them backstage VIP stuff and all of that. It was great. So when I get my legs back, I'll take him out to dinner."
Di'Anno went on to say that Harris called him the day after the MAIDEN show in Croatia but he missed his call. "But I did text him back," Paul said.
"What annoys me is that everyone's spreading rumors around that we don't like each other and stuff like that," he explained. "I ain't got nothing [against] IRON MAIDEN at all. I tell you, the show was brilliant on Sunday — absolutely amazing."