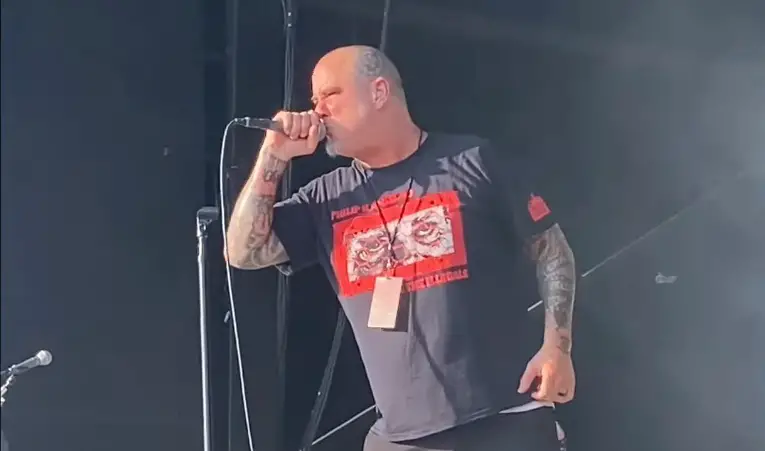 PHILIP H. ANSELMO AND THE ILLEGALS performing their "A Vulgar Display Of Pantera" set at this year's Rock Fest on July 16 in Cadott, Wisconsin. Fan-filmed video footage, courtesy of Concert Mania, can be seen below.
"A Vulgar Display Of Pantera" finds singer Philip Anselmo and his solo group celebrating the legacy of PANTERA with a set featuring select cuts from the iconic metal band's five classic albums: Cowboys From Hell, Vulgar Display Of Power, Far Beyond Driven, The Great Southern Trendkill and Reinventing The Steel.
In a recent interview with Brazil's Inside With Paulo Baron, Anselmo said that he would be interested in reuniting with Rex Brown for a special tour celebrating the music of PANTERA.
When asked if he and Rex would be open to playing some shows in celebration of PANTERA's legacy, Anselmo responded: "I think Rex sees what I'm doing with the ILLEGALS and he likes it. He's just, like, 'That's great,' because the more I keep PANTERA alive, it's good for him too.
"I think Rex is very happy doing his solo records and stuff, and I think he's been in the studio; he's got his own thing going on. And I think right now in life, we are content to do things this way.
"If Rex and I had a show to play, or we were ever gonna be on stage again together, I would welcome it with open arms. I love Rex. And he'd be the same way. We're brothers forever. So playing on stage together, or doing some shows together, is not out of the question. It could happen."