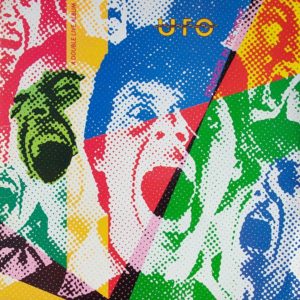 The very well-known producer Ron Nevison (Kiss, UFO, Led Zeppelin) writes for page The River Rock Times where he answers viewers' questions on the albums he produced or he was an engineer. A viewer asked about Michael Schencker and Paul Chapman overdubs on UFO's masterpiece "Strangers in the Night Live." Here's the answer:
Okay, let me talk a bit about "Strangers in the Night." The album was recorded at the Record Plant mobile Studio. If I remember correctly, I believe it was recorded in four or five different locations. Youngstown, Columbus, Cleveland, Chicago with Chicago being the biggest hit. I had Mike Clink (Whitesnake, Guns N' Roses, Mötley Crüe, Megadeth, etc.) as my assistant back then. You know, it wasn't really supposed to be a double album but when you have 12 minute songs like "Rock Bottom" it makes it difficult. And let's not forget that vinyl records could only be 20 minutes a side. If you get one song that's 12 or 13 minutes how are you going to juggle all of that?

So, I had to try to figure out on songs like "Love to Love" and others how I was going to get it done. I ended up talking to Chrysalis Records and we finally decided to do the double album. Now, in the end there were two songs that I still needed that I really didn't think were up to par so we went back into the Record Plant Studio C and re-record those two songs. I don't know if anybody could tell the difference Todd as I used all the same mics, the same placement, everything. I set up to record just like it was on stage and at the gigs.

I must say there were very little overdubs. I've heard people say "Oh yeah, there were lots of overdubs on the "Stangers" Live album but No. One of the reasons there wasn't is because I picked the songs that didn't need it. There was however some "fixing" here and there but there were not a lot of overdubs. Now, having said that it was 40 something years ago (Laughter).