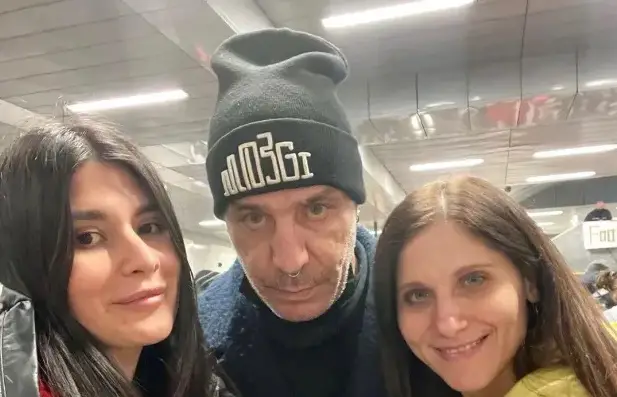 RAMMSTEIN frontman Till Lindemann has been spotted personally helping out Ukrainian refugees at Berlin train station who are coming to Germany.
Rapper Potap shared the story of a refugee, whom the musician settled in a hotel.
The story of Ukrainian Alisa Komm was shared by rapper Potap, friend of Lindemann. The girl said that she met RAMMSTEIN frontman at the train station in Berlin in the area with refugee volunteers. Alice was looking for a place to sleep in Berlin, but there were no places anywhere.
"I feel bad, I want to cry. We approach another volunteer. I explain the situation. He says we will decide now. And then …! Till comes up with Jessica (Till's director), they are talking about something with a volunteer. I can't believe that in front of me in the midst of all this apocalypse is the lead singer of RAMMSTEIN in a fashionable coat, no less fashionable shoes and a hat from Mozgi. He has terribly kind and beautiful eyes, "the girl admitted (as translated by Google Translate).
"Till and Jessica took me to a great hotel by themselves. Till pays for the room, puts 50 euros in the bag for dinner. Jessica gives me her number and tells me to call if I need anything. I want to cry. Kissed Tilly 3 times. He is embarrassed. I tell him that I used to love Britney Spears and now I love RAMMSTEIN. He sincerely laughs," Alice shared.
You can check full Instagram post below.
Last week, German band spoke out in support of the Ukraine in light of the country's ongoing conflict with Russia.
On Friday (March 4), RAMMSTEIN took to social media to post an image of Ukraine's blue and yellow flag with the Rammstein logo in the middle, showing their support for those affected by the attacks.
"The band RAMMSTEIN wishes to express its support for the nation of Ukraine as it resists the shocking attack perpetrated by the Russian government," they wrote. "Above all at this moment, we feel particular grief for the suffering of the Ukrainian people.
"Each member of the band has various experiences of the two countries; all members of the band have friends, associates, partners, fans in both lands."