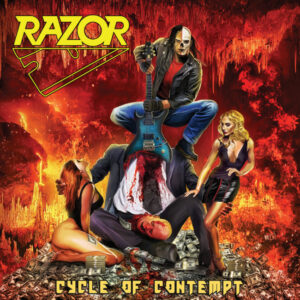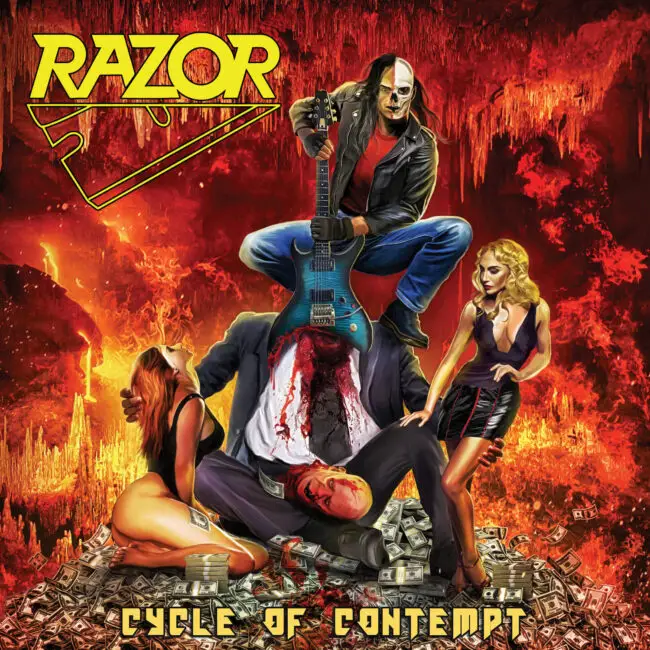 For many reasons 2022 is a year of comebacks. Not only for the comeback of the live shows due to the recovery of the pandemics but also for the return of some bands that were inactive for many years. I guess it's possible to say that this year is a year of surprises. Ok, then, so one of these surprises is the return of one more classic and cult band from the 1980s. One band that is responsable for being the one of many bands that helped shaping Speed Metal and Thrash Metal at the same time. Here I got you my dear fan Razor a band formed in the early 1980s. To be more precise the band was formed in 1983 and whose debut album 1985's "Executioner's Song" made a lot of fuzz.  The band disbanded in 1992 and rapidly joined together in 1997 to release their 1997's "Decibels" their swan song. Now the band is back with almost their original line-up except for drummer Rider Johnson.
Right on. "Cycle of Contempt" is their cutthroat comeback album and by cutthroat I mean that the album is straight ahead and fast as hell with that kind of drumming that many fans would call it machine gun drumming. Check it out with "All Fist Fighting" whose pounding will amaze my dear fan. Musicwise, this album is much more 1980's Thrash Metal than Speed Metal Hell. I say that because vocals are harsh and sore intertwined with that sharp and striking guitars. Guitars here are fast, furious, and precise as Thrash Metal commands. The riffings are concise and pretty vicious showing that the years Razor were inactive were in vain in terms of creativity. Some wisely say that a band has five years to write their first record and two weeks to write the second. I guess that's pretty accurate and sometimes some time off mean a lot. A big hail to the politic lyrics the band stands in some tracks. Maybe due to the Hardcore roots Thrash Metal bands are always more linked to politics than other Metal bands. By the way, very interesting idea with the crowd chanting "Razor, Razor, Razor" in album opener "Flames of Hatred" repeating it in the grand finale track the ne with the best lyrics "King Shit" – no, no, not kidding.
Some bands did deserve a better change back in the days. However, life is not fair as we all know. It's so great when pioneer bands  as Razor managed to make a comeback. A big hail to Razor and all bands that got to make their comeback this year against all the odds.
Razor "Cycle of Contempt" was released on september 23rd via Relapse Records.
Track Listing:
Flames of Hatred
Jabroni
Off My Meds
A Bitter Pill
Crossed
First Rate Hate
Cycle of Contempt
Setup
Punch Your Face In
All Fist Fighting
Darkness Falls
King Shit
Watch "Flames Of Hatred" official lyric video here: