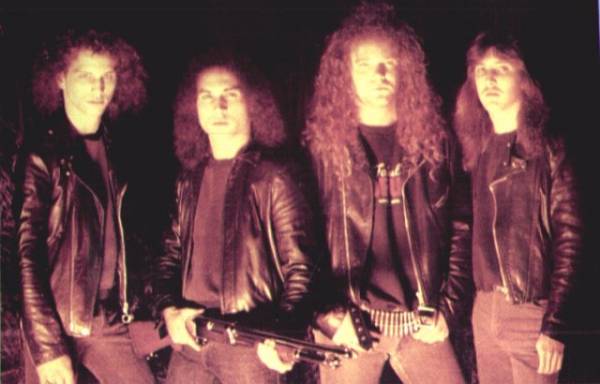 After Canadian thrash metal legends RAZOR had released their self-financed debut EP "Armed and Dangerous" in 1984, they were surprised to get the attention of Attic Records, the country's leading major record company at the time. The band soon inked a deal with the label and was destined to spearhead the company's new Viper Records division.
"Escape the Fire" was originally planned to be the follow-up to "Armed and Dangerous" but in the end it did not work out like this. Attic put pressure on the young band and had their own ideas of shaping the future of RAZOR. The result was "Executioner's Song."
Original bassist Mike Campagnolo tells the whole story:
"Let's face it, when any young band is given a shot at a record deal, it usually leans heavily in the label's favour. Sure, we were inexperienced but they were also treading in unknown waters with the new Viper division, so there was a bit of lost advantage all around. I think we learned a bit from each other but hey, it's usually the person with the cash making the final decisions. The main problem was that they were trying to cash in on anything we released instead of promoting a newer direction as the metal scene began to get harder and faster. They really didn't grasp how the scene was changing and progressing and didn't really get ahead of that wave. They had a pattern of how to deal with artists and stuck to that formula instead of seeing that this genre was here to stay and not just a fad. Attic showed that strategy with 'Executioner's Song' when they wanted some songs off of 'Armed and Dangerous' and the 'Escape the Fire' demo to create that release."
"Escape the Fire" was originally recorded on December 1st 1984 at Future Sound studios in Toronto and was produced by Terry Morostega (who had worked on "Armed and Dangerous") along with Dave Carlo.
As Mike Campagnolo explains, after "Armed and Dangerous" RAZOR were "firing on all cylinders":
"It would have been interesting to see how 'Escape the Fire,' if released in its original form, would have been received by metal fans. It would've probably pushed some of the 'Executioner's Song' material onto 'Evil Invaders' and who knows if it would have altered the progression of the band in any way?"
Read our review here.