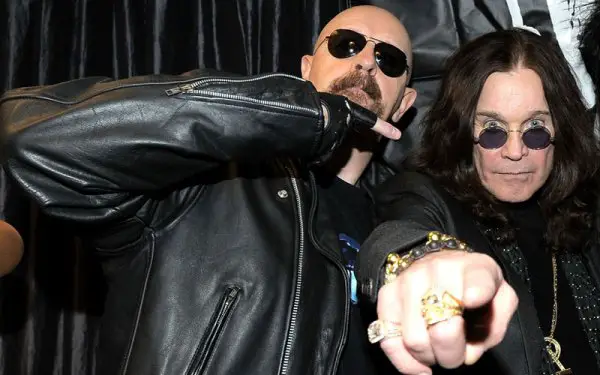 In an interview with Australia's Heavy, JUDAS PRIEST singer Rob Halford has commented on Ozzy Osbourne's recent hospitalization.
When asked if Ozzy's latest health scare makes him question his own mortality, Halford responded: "We love Ozzy to death. Oh my God! When you say 'Ozzy,' your head is full of this remarkable man's career and all the wonderful things he's done for rock and roll, for metal. He's touched so many millions of people's lives, and we're really, really happy that he's recovering. "It's gonna be fantastic — isn't it? — when we're all together again.
"Life is life. And you do what you can to deal with the adversity that puts itself in your path. We're going through that with Glenn [Tipton, JUDAS PRIEST guitarist]. Let me just rephrase that — Glenn's going through that himself with his great battle against Parkinson's [disease] that he's dealing with. And he's a wonderful example — a really, really strong, powerful example — of somebody that's fighting back and pushing back and still living an active life with this challenge.
"Glenn comes out and joins us when he can. He's still an active, full member of JUDAS PRIEST. If he's not able to make [the upcoming] Download [festival appearances in Australia], he's with us in spirit, in the songs that he's written, and he's up on the big screen.
"So, yeah, it is what it is. We're all getting on. But we're absolutely determined to keep going and live our lives in metal and share it with our fans."
On February 4, Ozzy was hospitalized as he recovers from the flu amid fears he could develop pneumonia, which is potentially fatal for someone his age.
Earlier this week, Ozzy's wife Sharon said that BLACK SABBATH singer
is "doing good" and is "breathing on his own."
Ozzy was forced to postpone the entire European leg of his "No More Tours 2"run on doctors' orders, just one day after postponing the first four dates on the U.K. stretch of the trek. Ozzy was diagnosed with a severe upper respiratory infection which his doctor felt could develop into pneumonia, given the physicality of the live performances and an extensive travel schedule throughout Europe in harsh winter conditions.