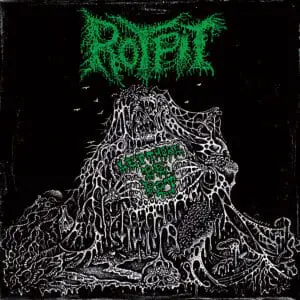 The band name and the album tittle make no mistake of what subgenre of Metal music we're talking about even though I always say that both can deceive. Well, in this very particular case kind of. By the iconography and thematic we're talking about a Death metal album even "Let There Be Rot's" sonancy is slower than Death Metal's standards giving the fan the impression that the focus here is a Doom Metal band. Vocals should be added to the list of out of the Death Metal box as it is rougher than usual coming from the very seven depths of hell. That'd be Funeral Doom Metal as far as I'm concerned. Everything analyzed here may make us all jump to the conclusion that this is a Funeral Doom Metal album. Right? No, not even a bit. Metal subgenres may deceive. Yes, they may. That's why I always say it's very important to listen to the album more than twice if required to write the most accurate review as possible. In this very especific case it was necessary due to the mixed traits Rotpit deliver my child of the night here. Here it's not possible to analyse the tracks in separate but the whole. After a carefull listening of all tracks of "Let There Be Rot" it's possible to say the focus here is good old Death Metal.
"Let There Be Rot" is opened up by the slow blazing "Slimebreeder" whose initial notes might make my dear fan confuse a little. It's only after some seconds that goes right to it stepping on the speed pedal. It's fair to say that, to some extent, the album follows this formula of extremely slow and faster than the speed of light. "Beastfeaster" may be the track that showcases this best with its low tuned guitars with lots of distortion, an overtone that I really appreciate. They give the songs some more depth and help create a chaos rising idea out of the song. The contrast with the guitar solo in "Shitburner" is the putrefaction we're talking about. It's like some acid that liquifies all the rotten flesh slowly and painfully creating some smelly goo. By the way, the guitar solo in this album sounds as this acid that goes slowly eroding all the flesh around. Each note given is like each drop that falls in the cadaver to be liquified. "Into the Rotpit" gives exactly this feeling. The acid goes dropping faster as the song goes throught the mortal remains. "Let There Be Rot" is pure acid, if you know what I mean.
Rotpit "Let There Be Rot" will be released on April 14th via War Anthem Records.
Track Listing:
Slimebreeder
Night of the Ultimate Rot
Let There Be Rot
Rottenness
Beastfeaster
Shitburner
Deathtrip
Into the Rotpit
The Serenade of Rot
Watch "Night of the Ultimate Rot" official music video here:
1712