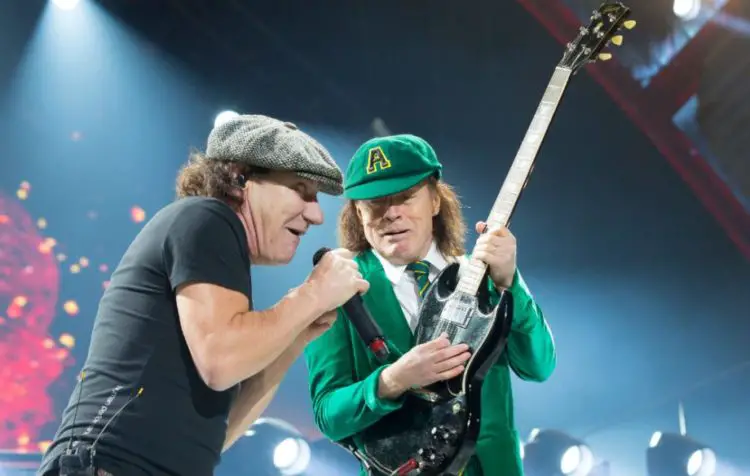 A new rumor on AC/DC fan forum is suggesting that band is not working on new album, but instead on just a few songs in honor of the late Malcolm Young.
Forum user kmcdonald606 posted:
"Heard it's "not an album" but a project. It seems like a few songs.

"Seems like it's not happening…. Not sure the reason. They didn't say. So I'd "Sink the Link…"

"Sorry to be the bearer of bad news.

"I wish it was getting released too. ?

Really sad right now."
During recent episode of Metal Highlights podcast, famous rock journalist and podcast host, Eddie Trunk, revealed more information on possible AC/DC tour and new album.
He said:
"I think AC/DC has lost a little bit in terms of their recordings. A little bit of that punchy-in-the-jaw heaviness, attitude, and power. Quite frankly, that probably comes with the fact that AC/DC are much older now and I understand that.

"So, I think they have evolved and changed a little bit. AC/DC is now sort of a swaggery, bluesy, sort of rock and roll band. Which is totally fine at this point in their career, and that's what I meant and Matthew thank you for quoting me correctly when I said on the show: 'At this point in their career.'

"It's not 1980 anymore, it's not 1979, I understand that there are going to be limitations and I understand it's going to be different in terms of the approach. Most people get a little more mellow with age."
Trunk also responded to a mail from a fan who asked about Brian Johnson's possible return.
"Well Bob, as he writes, he goes by Bob Groogle, Bob, short and to the point – Bob, I can't give you an answer for sure but every indicator that I get is that AC/DC will indeed do something very soon, has made a record and will tour.

"Maybe select dates,maybe a handful of stadium dates, we'll see but I keep hearing things are happening."