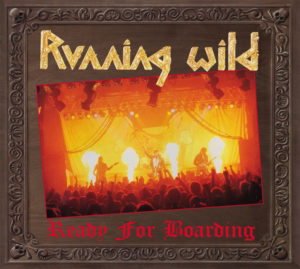 There are albums that there's absolutely no need to listen to them to write a review for two different reasons. First, it is an alive album and I know all the songs within it. Of course, alive albums have that aura of mystery and the relation band/crowd. Hence to listen to them is just to check what the relation band/crowd is. Not mandatory if nother alive album from the band has been heard previously. Second, when all the songs in the album mare already known. This "Ready for Boarding" meets both conditions. More importantly because I remember to have seen it in video maybe in 1988. There's another one: I love Running Wild and they are one of the bands I've known for a really long time. Ah, and by the way, "Ready for Boarding" is a reissue from the 1988 original.
Ok, I guess the first time I listened to a Running Wild album was in 1986 when I had the opportunity of getting both debut and sophomore albums 1984's "Gates to Purgatory" and 1985's "Branded and Exiled" both belonging to a rawer and more straight ahead era. Running Wild were one of the most prominent bands from the Teutonic Metal invasion. From both albums I could cite many songs that later became classics and "Ready for Boarding" delivers some of them. From them on the band changed their lyrical themes and their sonancy getting less raw and with a neat production. 
Now 34 years later I understand why this album is beeing reissued. I guess it is absolutely mandatory that today's metalheads have opportunity to listen to this master piece. "Ready for Boarding" was able to capture all the energy Running Wild are known for. Listening to this album my dear fan has the opportunity to check out the aforementioned changes and how the band made them work alive. "Ready for Boarding" is from a moment when the band is, from where I'm standing, in their better shape. From the point of view of a fan, which I am, I see a very cohesive band. In fact, both eras are very represented here.
Metalheads have a special relationship with live albums. That's for sure. If one asks a headbanger about the favorite albums for sure there will be some live albums. If you are about to Metal, "Ready for Boarding" is one dang mandatory album.
P.S. – Better late than sorry. Here goes two eleventh info. The first is that this reissue includes 1989's alive records. The second is that BMG Records is also reissuing the 1991 compilation "The First Years of Piracy" which I won't review because I think it's too redundant.
Running Wild "Ready for Boarding" will be reissued on May 27th via BMG Records.
Track Listing:
Hymn of Long John Silver (Live in Munich)
Under Jolly Roger (Live in Munich)
Ghengis Khan (Live in Munich)
Raise Your Fist (Live in Munich)
Purgatory (Live in Munich)
Mordor (Live in Munich)
Diabolic Force (Live in Munich)
Raw Ride (Live in Munich)
Adrian S.O.S. (Live in Munich)
Prisoner of Our Time (Live in Munich)
Intro (Live In Düsseldorf 1989)
Riding the Storm (Live In Düsseldorf 1989)
Bad to the Bone (Live In Düsseldorf 1989)
Raging Fire (Live In Düsseldorf 1989)
Tortuga Bay (Live In Düsseldorf 1989)
Uaschtschun (Live In Düsseldorf 1989)
Bass Solo (Live In Düsseldorf 1989)
Conquistadores (Live In Düsseldorf 1989)
Prisoner of Our Time (Live In Düsseldorf 1989)
Watch "Purgatory" alive video here: