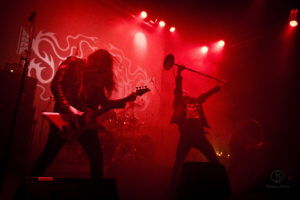 Emerging from the black swirl of Brussels dead city, SAQRA'S CULT were founded by G & S, respectivly drummer and guitarist. Their goal was to recreate a Black Metal entity based on acts such as old Mayhem, Leviathan,
Xibalba, Katharsis… but quickly they developed their own way of writing their material, haunted, twisted and aggressive. Also at the root of this project was the inca culture, as G. is an artist from Ecuador who developed his creations about this part of his identity. Therefore, they chose to embrace this subject as a manner of putting in perspective the established way of thinking art and society.
SAQRA'S CULT is not to be seen as a folk band that use those ceremonies to develop a scenic and theatrical distinction, but more as a basis, through glimpses of the inca history and culture, to reconsider and destroy the way western religion was established as the prime filter to understand the world we live in. Ater a few rehearsals they were joined by L. and A., whom were already playing in a band with S. before. This resulted in the recording of their first demo "Initiation to Forgotten Rites," home recorded in 2015, soon followed by their first full length "Forgotten Rites," recorded at Blackout Studio in 2017. Both were released through Amor Fati Productions.
G. then chose to leave the band because of time disponibility but remains part of the identity of the band as he is always responsible for all the artworks and takes part in the lyrical and writing processes as often as possible. He was at that point replaced by J. who is now doing bass guitar as L., is playing drum and A. is doing vocals. After some gigs in Europe (Germany, Switzerland, France, Iceland, …),
SAQRA'S CULT took time to write a new LP driven by the same dark and haunting atmospheres their music has always been about, and will always be… "The 9th King" will be released via Amor Fati Productions in early 2019.
Read our review here.