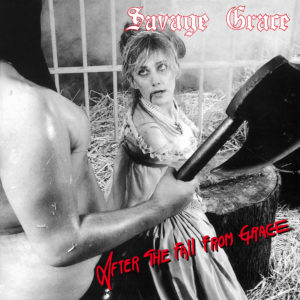 By 1986 some interesting hybrids and bold experiences were born. That time bands were trying the best combination of speed, rage, heavyness, technique, and emotion. If memory serves me right, Savage Grace were one of the pioneers of the use of dissonances and different chords in Metal music. Album opener "We Came, we Saw, we Conquered" showcases a slight combination of both in the rhythm. I recommend my dear child of the night to pay close attention to the chord choice the band did around the album. I easily consider this album one of the unknown and unheard and unsung classic albums of the 1980s. The music within is at the time groundbreaking, heavy, and melodic. To be really frank "After the Fall from Grace" was one of albums I had in mind to add to my Classic Albums reviews – this is feature we have here where of all time classic albums are reviewed. To label this album simply as Speed Metal is absolutely a mistake or, at least, an understimate – or maybe done by someone who only heard a few tracks. It's much more complex than that.
"After the Fall from Grace" was one of the albums that I bought in a used albums store just because of the cover and the price. Really. I mean it. When I got home I put it to play I had the same feeling I had when I heard Accept and Motörhead for the first time. A scorching and abrasive power was felt all over my body. And an unspeakable happiness that only Metal fans will understand. The combination of the aggressive instrumentals with the very melodic vocals is the first thing that attracted me to the album. I cite the most mortal combination of the album that it "Trial by Fire" with its hypnotic and fast as the speed of light cadence. Add to that the guitar duo that is very tight and play some incredible riffings and licks and solos. "The Age of Innocence" is the perfect sample of the insane cohesion the guitars deliver. By the way, as I'm talking about the guitars. The splendid performance the fan has the pleasure to listen is really something that really attracted my eyes to the album. I was a lonely 16 year old metalhead who had the opportunity of getting the gem for a very affordable price. I don't if my dear fan can wonder my happiness. "After the Fall from Grace" is one of the albums that I still listen frequently. A gem! A masterpiece! I really hope you enjoy this re-release of this timeless Metal classic.
This neat re-release also contains other releases of the band. You can't loose it.
P.S.: Pay really good attention the album cover. Savage Grace also got famous for their nonsense and bold covers.
Savage Grace "After the Fall from Grace" will be re-released on February 18th via Hammerheart Records.
Track Listing:
"After the Fall from Grace"
Call to Arms
We Came, we Saw, we Conquered
After the Fall from Grace
Trial by Fire
Palestinia
Age of Innocence
Flesh and Blood
Destination Unknown
Tales of Mystery
"Ride into the Night"
10. Ride into the Night
11. We March On
12. The Healing Hand
13. Burn (Deep Purple Cover)
"Compilation 1991"
14. Mainline Lover
"Live 1982"
15. Bare Bottom Blues
16. Such a Dirty Mind
Watch "After the Fall from Grace" offical video here: