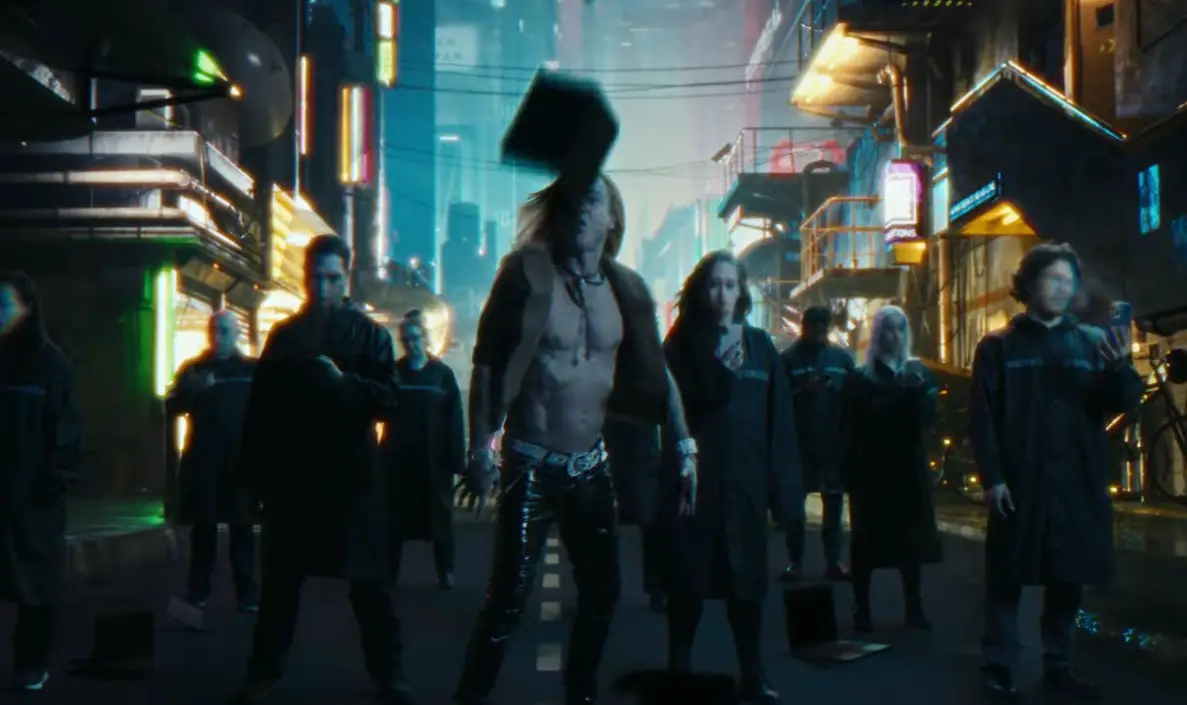 FALLING IN REVERSE has put out the official video for the group's newest song "Watch The World Burn." The video, which was filmed by Jensen Noen, has a moment (about 2:08) where a person resembling Sebastian Bach is bumped on the head by a laptop that is dropping from the sky, which is apparently a reference to the ongoing verbal conflict between FALLING IN REVERSE frontman Ronnie Radke and the ex-SKID ROW vocalist.
Just hours before band was supposed to appear at the one-day event on Saturday, September 24 at Lake County Fairgrounds in Grayslake, Illinois, Ronnie Radke and his bandmates scrapped their performance because their laptops — which the musicians use to "run" their "show" — were lost.
"WIIL Rock, I regret to inform you that we have to cancel and we have no other option. I'm sorry. And I never make videos like this, but I feel like I owe it to you guys," Radke said in a video shared by WIIL Rock Facebook page.
"So we show up to rehearsal. We only planned to rehearse one time. Because we just got off tour, we don't need to rehearse that much. And we walk into rehearsals and our laptops are missing that we run all of our show on and stuff. And as a band in 2022, you need your laptops. It's like driving a car without an engine. It's really unfortunate. Supposedly they are lost. Blame it on our crew, I guess. I don't know how that happened; that's never happened before. [I'm] pretty upset about it. They are brand new laptops. And I'll see you guys at Aftershock in Sacramento on October 2nd. I'm very sorry, guys."
Video quickly generated a lot of backlash from fans who expressed their dismay over FALLING IN REVERSE's apparent inability to take the stage without their computers.
SiriusXM radio personality Eddie Trunk also offered his opinion, writing: "This is astonishing .. First I heard about this I thought it was a joke to wind me up. How much longer are fans, promoters, media, just going to accept the epidemic of live rock shows… not really being live? Paying your hard earned money to see a band play "live" that's not truly live?! And there are countless bands in 2022 that hone their craft and play live! Tons! New and old !! Including the one that subbed for them in their slot, JACKYL . No laptop needed there! This is just unreal. But at least I give them credit for being honest. Wow. I am closer than ever to launching my own band. And I can't sing or play a note .. simply amazing."'
In response, Radke wrote: "@EddieTrunk so you wanna talk hella Sh*t about laptops but go watch kiss lip sync, Steven Tyler plays the piano then half way through the song he stands on top of piano while it sill plays yet here we are acting like they all don't use tracks you fcking idiot. Literal moron."
He also shared a video of Trunk introducing Bach's solo band at a performance, and he included the following message: "@EddieTrunk introducing @sebastianbach using tracks, both idiots talking Sh*t about me using tracks can't make this sh*t up." A short time later, Bach fired back, writing: "Wow dummy are you trying to say that you believe that I use tracks on stage? @EddieTrunk how f****** funny is this". Radke then responded: "There's a fake audience cheer in your intro tracks and also fake drums the f*ck you mean? that sh*t isn't real you are using a fake audience cheering as you walk out on a f*cking track hence you using tracks."