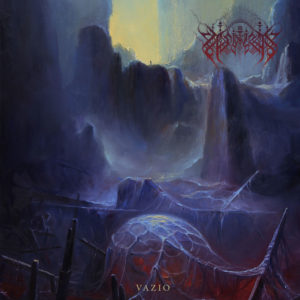 It's always great when we get a band to review that at the same time maintains the roots of its genre and try to change it a bit adding some new ones. It's not always a fair and easy fight bands do to acquire their deserved place under the sun. It's not that Doom Metal do wish a place under the sun, I guess they are more fit under the moon, but whatever.
Okay, it may be not that much. In "Vazio" the fan will find long and shoegazed tracks that seem to be stading in the ether as "Magno Caos" whose vocals are staright from hell vociferated by the beast himself, but title track "Vazio" do have some moments when the tempo is acelerated acquiring a certain speed that makes the fan headbang. Here and there the fan will notice this slight change of tempos to something faster than the average of Doom Metal bands. It's interesting to know that the album has an intro and a grand finale with some sound effects and white noise. "Involucro Oco" opens up the album as a bridge to the title track "Vazio" which as aforementioned does some plot twists in the tempo and cadence. In fact, it's not a plot twist that happens, it's like a tornado. The change in tempo is astonishing. If the fan plays the album by the fourth minute, the impression will be of a Black metal band. It's that makes Sepulcros stand out the crowd of Doom Metal bands and their ethereal estanding still tempo. Following tracks follow almost the same path to the grand finale with "Humana Vacuidade" which is also a track with white noise. Therefore, "Vazio" ends as it started. By the way, pay close attention to the musical chaos the band brings in "Marcha Funebre." Letal death until the end.
It's true that sometimes I get bored by Doom Metal bands, but, in fact, this wasn't the case. Sepulcros really know how to attract my attention. The sense of continuity that "Vazio" delivers the fan is its highlight. It's a coherent album that follows a determined path. My highlight to Sepulcros that dare to change some crystalized features.
Sepulcros "Vazio" will be released on March 12th via Transcending Obscurity Records.
Track Listing:
Involucro Oco
Vazio
Marcha Funebre
Magno Caos
Hecatombe
Humana Vacuidade
Watch "Vazio" official music video here: