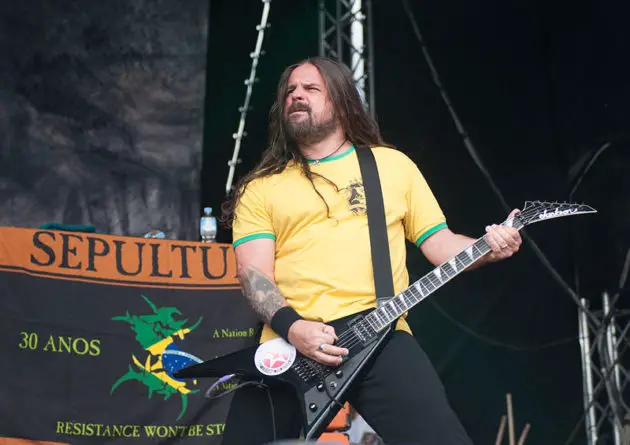 Diamond Oz of Metal Underground conducted an interview with SEPULTURA guitarist Andreas Kisser prior to the band's March 13th concert at The Fleece in Bristol.
In this interview, Andreas was asked about the fact that frontman Derrick Green has been with Sepultura for 20 years and why he's been able to remain with the band for so long. He replied: "[Sarcastically] We're still trying things with Derrick. It's a transition phase. [Laughs] We're not sure yet. [Laughs] It's amazing. It shows that we made the right choice and Derrick as well, to choose to be with us. Twenty years has been an amazing ride. I think "Against" is the most important album in our career. Without "Against", we wouldn't be able to continue as SEPULTURA. We stayed as a trio in the beginning, then Derrick came in to complete the team. We were missing that extra guy there, that extra factor with ideas and input. When Derrick came in, we completed "Against" and it was a very difficult time, for sure.
Max [Cavalera] left at the highest point of our career, up until that point. "Roots", we still had a lot of stuff to do with "Roots" for '97 and '98, etcetera. All of the sudden we started basically from scratch. We lost a singer, we lost a manager, we lost the producers of our album, we lost basically everything. We stayed with Roadrunner. We did two albums, "Against" and "Nation", which was very crucial and important for the band to reestablish itself and start a new phase and career.
"Here we are, celebrating 34 years of a career. I think we are in our best momentum, ever, regardless of what we were selling on "Roots" or doing on "Roots". Our backstage life was a mess. No wonder it happened when it happened because we didn't have any more communication or anything like that. It was chaotic; it was crazy. At the same time, the stage was great. We were very professional to go on stage and really enjoy ourselves, but all the rest was really crazy. Not now. We have everything very much organized. We enjoy being with each other. We go out. We talk about different things. That's the way it's supposed to be, I guess. We're not here suffering, just trying to get a paycheck. We really do what we love. It's a privilege for us to be here with a tour like this, with the fanbase that we have, with the label that we are on, the managers that we have right now, everything. It's fantastic. We worked very, very hard to be here today and I think these 20 years are the most important years for us.
"Of course, you have the golden years for SEPULTURA in the beginning, coming from Brazil, discovering the world and everything. To rebuild everything, to start almost from zero, it feels like a really amazing achievement, to be here now and to have these kind of opportunities with SEPULTURA. It's great."
"Against" is the band's first release with new frontman Derrick Green, who replaced group founder Max Cavalera in 1997.