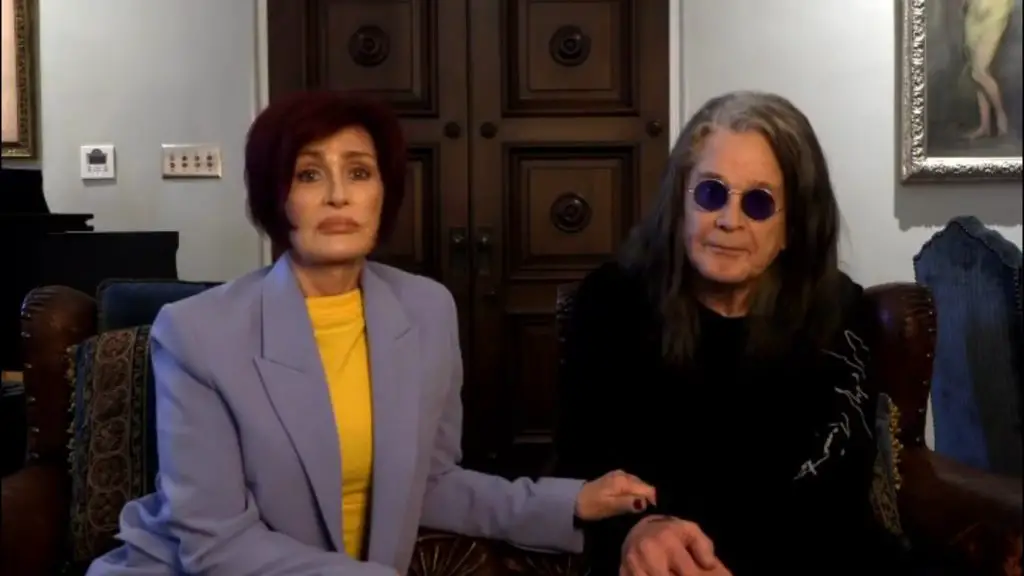 During a recent appearance on Talk TV, Sharon Osbourne shared the reason why she does not allow her husband, Ozzy Osbourne, to attend awards ceremonies.
Sharon was asked about her thoughts on Angela Bassett's reaction at the Oscars after losing to Jamie Lee Curtis in the Best Supporting Actress category.
Sharon commented about Bassett's reaction of "disgust" when the cameras focused on her, saying: "Listen, I get it, the disappointment. That's why I never let Ozzy go to award shows. I just won't do it. You don't want to be on camera when you didn't win!
"Listen, [Angela Bassett] knew she would be on camera. She did what she felt. She didn't play the game. She didn't pretend. She didn't applaud. She's got to live with it – she knew what she's doing, she's an experienced actress."
In a recent report by The Sun, Ozzy has vowed to make a comeback to live performances, even if he has to sit in a chair.
This announcement follows a statement he made a month ago, confessing to the cancellation of his tour due to spinal injuries from four years ago and other health concerns.
Osbourne is said to have drawn encouragement from Axl Rose of GUNS N' ROSES, who toured with a injured foot while seated on a throne, and Phil Collins, who concluded GENESIS's last tour while sitting on a chair.
A friend of Ozzy told The Sun: "Ozzy is refusing to give up on his hope of getting on stage despite his statement last month. He has declared: 'I am gonna f**king get back on stage.' He still has issues with his balance and cannot stand unaided for long periods of time on his legs. It frustrates him that doing a full-90 minute show, filled with his famous stage stomping and crowd interactive moves, is off the table. But he is considering doing gigs in a throne, like what Axl did in 2016 with GUNS N' ROSES. He was really impressed by that move. And he feels Phil showed that audiences do resonate with you.
"Ozzy worries that he may not be able to sit still, which could be challenging. But there is talk of bringing in some special effects and even stage machinery to have the chair move around. He feels a lot of options are on the table, but Oz is not ruling out Vegas or L.A. runs."
"That is Ozzy's determination. However, Sharon [Ozzy's wife and manager] is concerned about her husband being put through a heavy duty work load around gigs. Firstly, she has deep concerns about his balance and wants him to get back to walking properly, before even discussing comebacks. And she is particularly worried about him losing his balance and suffering injuries. Oz has spoken too about Sharon's fears of his Parkinson's condition prompting him to suffer falls like Michael J Fox."
On the recent installment of SiriusXM's "Ozzy Speaks", Ozzy shared a few words with co-host Billy Morrison and gave an account of his tour status.
"Well, I've been working my guts out to try and get back on my feet. I've come to the point where Sharon says to me, 'You know what? The truth of the matter is you can't keep booking tours and failing, canceling. So, if I can ever get back to where I can tour again, fine. But right now, if you said to me, 'Can you go on the road in a month?' I couldn't say yes. I mean, if I could tour, I'd tour. But right now I can't book tours because right now I don't think I could pull them off."
Osbourne addressed the reports that he was retiring from touring after he revealed his decision to cancel his tour earlier this month due to a spinal injury he suffered four years ago and other health issues.
"The f**king press drive you nuts," he said. "I mean, I looked in the magazine, 'Ozzy's on his last legs.' I'm f**king not dying… Come on, guys. Haven't I've had it bad enough already? If I get okay today, if the doctor said to me today, 'Oh, you can tour, it would take another six months to get it together, you know?"
"You've got no idea. You got no idea what my… I feel like a one-legged man in a butt-kicking contest," Ozzy continued. "The only thing I've got that keeps me going is making records. But I can't do that forever. I gotta get out there… [I'm] still in constant pain. I do to the best I can to stay away from the pain medication, but there are times when I go, 'You know, I've gotta take something.' I mean, last week I couldn't… I've been sleeping great, and all of a sudden for two back-to-back nights. I never slept a wink. If you're gonna torture me, just keep me awake for a couple of days. I'll tell you whatever the f**k you want me to say."