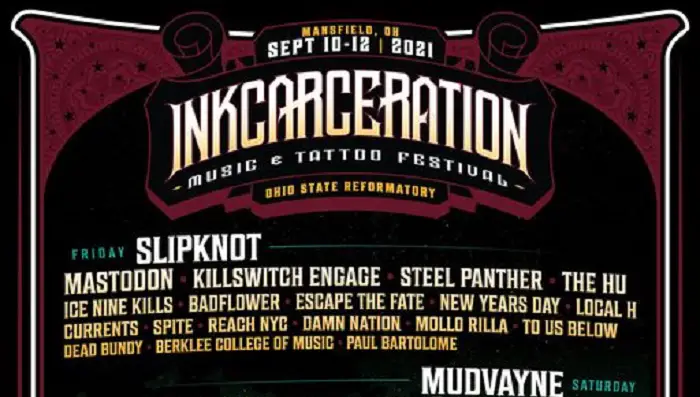 Inkcarceration Music & Tattoo Festival returns for a third year this fall with a massive lineup featuring some of the biggest names and brightest new stars in rock, metal, and more converging in Mansfield, Ohio on September 10, 11 and 12 at the historic grounds of the Ohio State Reformatory (made famous by the movie "The Shawshank Redemption").
Headliners for Inkcarceration include SLIPKNOT, MUDVAYNE and ROB ZOMBIE — marking the first show in 12 years for the band, who recently announced their long-anticipated reunion in 2021. The talent-packed lineup also includes A DAY TO REMEMBER, MASTODON, HALESTORM, CHEVELLE, KILLSWITCH ENGAGE, BEARTOOTH, MOTIONLESS IN WHITE, ASKING ALEXANDRIA, STEEL PANTHER, FEVER 333, THE HU, POP EVIL and many more.
Tickets for festival are on sale now and can be found at this location.
Shawn "Clown" Crahan from SLIPKNOT comments: "After 20+ years on the road, it's always wonderful to experience new things. We are excited to be a part of Inkcarceration Music & Tattoo Festival. It will be great to get back out there and be with our family again. Stay safe and see you soon."
Full line-up (subject to change) is as follows:
Friday, September 10:
SLIPKNOT
MASTODON
KILLSWITCH ENGAGE
STEEL PANTHER
THE HU
ICE NINE KILLS
BADFLOWER
ESCAPE THE FATE
NEW YEARS DAY
LOCAL H
CURRENTS
SPITE
REACH NYC
DAMN NATION
MOLLO RILLA
TO US BELOW
DEAD BUNDY
BERKLEE COLLEGE OF MUSIC
PAUL BARTOLOME
Saturday, September 11:
MUDVAYNE
A DAY TO REMEMBER
CHEVELLE
ASKING ALEXANDRIA
POP EVIL
AUGUST BURNS RED
CROWN THE EMPIRE
BAD OMENS
FAME ON FIRE
DIAMANTE
SAUL
SEPTEMBER MOURNING
DEAD GIRLS ACADEMY
ALONG CAME A SPIDER
SINK THE SHIP
ECLIPSICA
GHOSTS OF THE SUN
DEAD ENGINE
ATIMERA
Sunday, September 12:
ROB ZOMBIE
HALESTORM
BEARTOOTH
MOTIONLESS IN WHITE
FEVER 333
ALL THAT REMAINS
THE DEVIL WEARS PRADA
WAGE WAR
ATTILA
FIRE FROM THE GODS
CORY MARKS
STITCHED UP HEART
A KILLER'S CONFESSION
THE CONVALESCENCE
SILENT THEORY
THE PHOENIX WITHIN
JUNEXA
SAVING ESCAPE
HARMLESS HABIT
AMUN