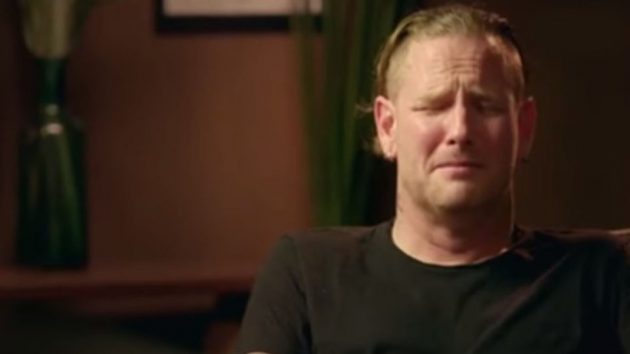 SLIPKNOT and STONE SOUR frontman Corey Taylor appeared on this past Monday's (May 22) episode of Viceland's "The Therapist" to talk in depth about his life behind his public persona, including his history of self-harm and his suicide attempt.
On his past suicide attempt, he said: "I only really seriously attempted suicide once. I took a bunch of pills at my grandmother's house and just basically laid on the floor. And my ex-girlfriend's mom stopped and my grandmother's house outta nowhere to check on me, to see how I was—found me. An hour later I'm drinking ipecac and throwing up into a bucket."
"The girlfriend whose mother found me had just broken up with me. There was just something about her that I really connected with, but when that went away, a lot of me went with it. I felt so empty that I had a hard time feeling anything other than grave depression. And it was the one time I really was just like 'I can't handle this.'"
"It was definitely one of my rock bottoms. So my grandmother came and picked me up. My grandmother, who has been the one person in my life. She came and picked me up and she was so disappointed."
"I could see it on her, you know? It was almost like a race of emotion. Just disappointed, she was glad I was okay, but she was so mad. That killed me and it hurt so much that I didn't—like it almost put me over again that I immediately just said ok, it's not… it's not something you come back from."
He also revealed that he was sexually abused at a young age:  "I was raped by someone in the neighborhood [when I was 10 years old].
"I didn't tell anybody for a long time because he threatened to hurt me, threatened to hurt my mom.
"Where we were living at the time – we moved around a lot so obviously I had to make friends quickly. There was really only one person to hang out with, to play with and he was this 16-year-old kid.
"And he would invite me over to his house to play music and one day it became something else and I didn't tell anybody for a long time because he threatened to hurt me, threatened to hurt my mom.
"He ended up burning his house down. They fled in the night. It was kind of crazy."