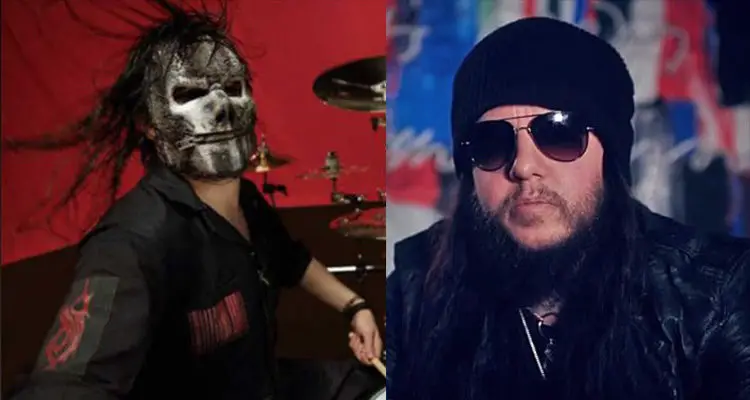 In a new interview with The Metal Circus TV, SLIPKNOT drummer Jay Weinberg discussed joining the band in 2014 as a replacement for original member Joey Jordison.
When asked if SLIPKNOT was one of his first metal shows, Jay responded: "Yeah, it was great. The first experience being introduced to this style of music, yeah. It was to see SLIPKNOT back in 2001, so I was 10 when I first saw the band and it blew my mind completely.
He continued: "I've only been exposed to THE WHO and THE ROLLING STONES and THE BEATLES by my parents at that point, and then all of a sudden to be introduced to SLIPKNOT and Ozzy Osbourne, SLAYER, whoever else was on that tour, that 2001 Ozzfest, that was a massive education in one day for a 10-year old."
Asked if he was nervous back in 2014 when auditioning for SLIPKNOT, he said: "Well, I was never tipped off by anybody in the band, so they definitely kept me on my toes in that I had no idea what band I would be auditioning for. I didn't hear from anybody in the band necessarily, it was just kind of like, 'Alright, come out to this studio and try out for a band.' And so, me just kind of having a curious nature, I wanted to know what that would be like, to go in and play with a group of musicians that I didn't know who they were.
"I didn't know who it was going to be, and in fairness to the whole situation, they didn't want me knowing, and I understand that — I respect that," Joey continued. "To be making a change within their band, they wanted to treat that with a lot of care and respect, so when I arrived, I was told I would be auditioning for SLIPKNOT.
"I had to do a little bit of mental gymnastics within the space of a second to understand what my role was in that moment and to approach a band that was making a significant change within their dynamic, to approach it with care and respect, love for the music and passion, but also understanding what these people. You know, forget that they're in a band, but just people — so yeah, it was a dynamic situation, but I also knew that I was asked to be there for a reason. It's not up to me to figure out what that reason is, but for whatever reason that is, they want me here.
He added: "And so, I got to show them why I'm here, and I was basically told, 'Alright, SLIPKNOT's gonna walk in, in about 20 minutes, you have 20 minutes to set up that drum set and get ready to audition for Slipknot.'
"I respect SLIPKNOT in a way that SLIPKNOT would deserve, and I think would want the kind of drummer that they could fly across the country, fly this person whoever it would be across the country with no notice about who they are, be told to set up a drum set in 20 minutes and then play their entire catalog. I think SLIPKNOT deserves that, I think SLIPKNOT has earned that over the longevity of the band's career, so I understood that if I was put in that situation, that's how I would want to treat it.
After interview asked him "have you ever had Joey's blessing? Were you in contact with him since you joined the band?," Weinberg simply replied "No."
SLIPKNOT released their latest album, We Are Not Your Kind, on August 9, 2019 via Roadrunner Records. Album was once again recorded at a Los Angeles studio with producer Greg Fidelman, who engineered and mixed SLIPKNOT's 2004 album Vol. 3: (The Subliminal Verses) and helmed 2014's .5: The Gray Chapter.