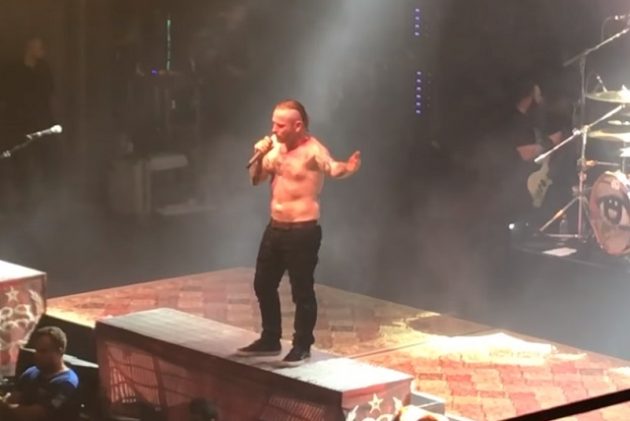 STONE SOUR have paid a tribute to Chris Cornell during the Rock on the Range Kick-Off Party.
SOUNDGARDEN And AUDIOSLAVE frontman Chris Cornell has died at age 52 last night, May 17, in Detroit, just hours after a SOUNDGARDEN show at the Fox Theatre.
According to a Detroit medical examiner, Chris Cornell committed suicide by hanging himself.
STONE SOUR frontman Corey Taylor addressed Cornell's passing, telling the crowd (see video below):
"We lost a rock 'n' roll brother today. As you know, we lost Chris Cornell from SOUNDGARDEN today, sadly. He was one of my favorite singers, he was one of my favorite f*cking all time songwriters and the fact that he is gone makes this world a little bit smaller. So one time, make some f*cking noise for Chris Cornell.
He continues: "I had the pleasure of hanging out with him and he was honestly one of the coolest motherf*ckers I had ever met in my f*cking life, so we decided that we were going to pay a little tribute to Mr. Cornell tonight. We learned this song today. In fact, I'm not completely sure we've learned it, but God damn it, we're going to give it our f*cking best; I'm going to give my best. I'm no Chris Cornell, but God damn it, if you know the words, you f–king help us sing it. Are you ready?"
Cornell was known for his role as one of the architects of the 1990s grunge movement, for his extensive catalog as a songwriter and for his near four octave vocal range as well as his powerful vocal belting technique. He released four solo studio albums, Euphoria Morning (1999), Carry On (2007), Scream (2009), Higher Truth(2015) and the live album Songbook (2011). Cornell received a Golden Globe Award nomination for his song "The Keeper" which appeared in the film Machine Gun Preacher and co-wrote and performed the theme song to the James Bond film Casino Royale (2006), "You Know My Name".